Building trust is an essential thing in today's digital world. More and more services are available online, and we need to verify our identity every day. In this online world, consumers face the threat of identity theft daily. Solutions that prevent these online crimes are quiet heroes, helping make the internet a safer place.
Veriff is an online identity verification service that makes sure that a person is who they claim to be. With the help of AI, their technology verifies people from all over the world and helps companies build trust with their customers.
Recently, I had a very interesting chat with the Head of Recruitment in Veriff — Kristiine Kukk. We talked about the corporate culture of Veriff, everyday life, company values, and the challenges Veriff has faced in its growth phase. It was an exciting and insightful conversation, and I'm here to to share it!
The founding story of Veriff is very interesting — it all started with the fact that Kaarel Kotkas, the founder and CEO, realized that it was really easy to hack the system, and companies don't have a handle on online ID checks. In order to solve this massive problem, he founded Veriff in 2015, which has had massive growth since then. Now, Veriff has more than 250 employees and helps people all over the world.
As I mentioned, the interview went really well. It was interesting to see how Veriff is growing and developing its product on the highest level.
So, let's get started!
How would you describe Veriff in the simplest way?
Veriff is building an AI-driven verification platform — our technology makes sure that a person behind the screen is who they claim to be. We are a force for good, and we are building an infrastructure for trust online.
What Veriff does is very specific. In order to gain trust online, you need to verify yourself. Our solution is a highly automated identity verification system, which makes this procedure more efficient and simple, so our clients know their customers well.
Why this really matters to me is I see that the things I do in my daily life make the world a better place. Creating trust in the digital world is something I really believe in, and I'm proud to work towards it. 
How is everyday life in Veriff?
Veriff is a very dynamic organization. Even though we have more than 250 people in the company, we live the startup life here — every day is challenging and full of interesting tasks. What I really admire about Veriff is the openness. Everybody's free to express their opinions, ask questions. One of my favorite parts of this is our Mix & Mingle, which is held weekly on Fridays. We start with openly sharing what has gone well in the whole organization during the week and what were the lowlights. Before this, people can ask every question they have on their minds in one of our Slack channels, and our founders answer them. I feel that if something is happening company-wide, that is important, the employees are told about it as well.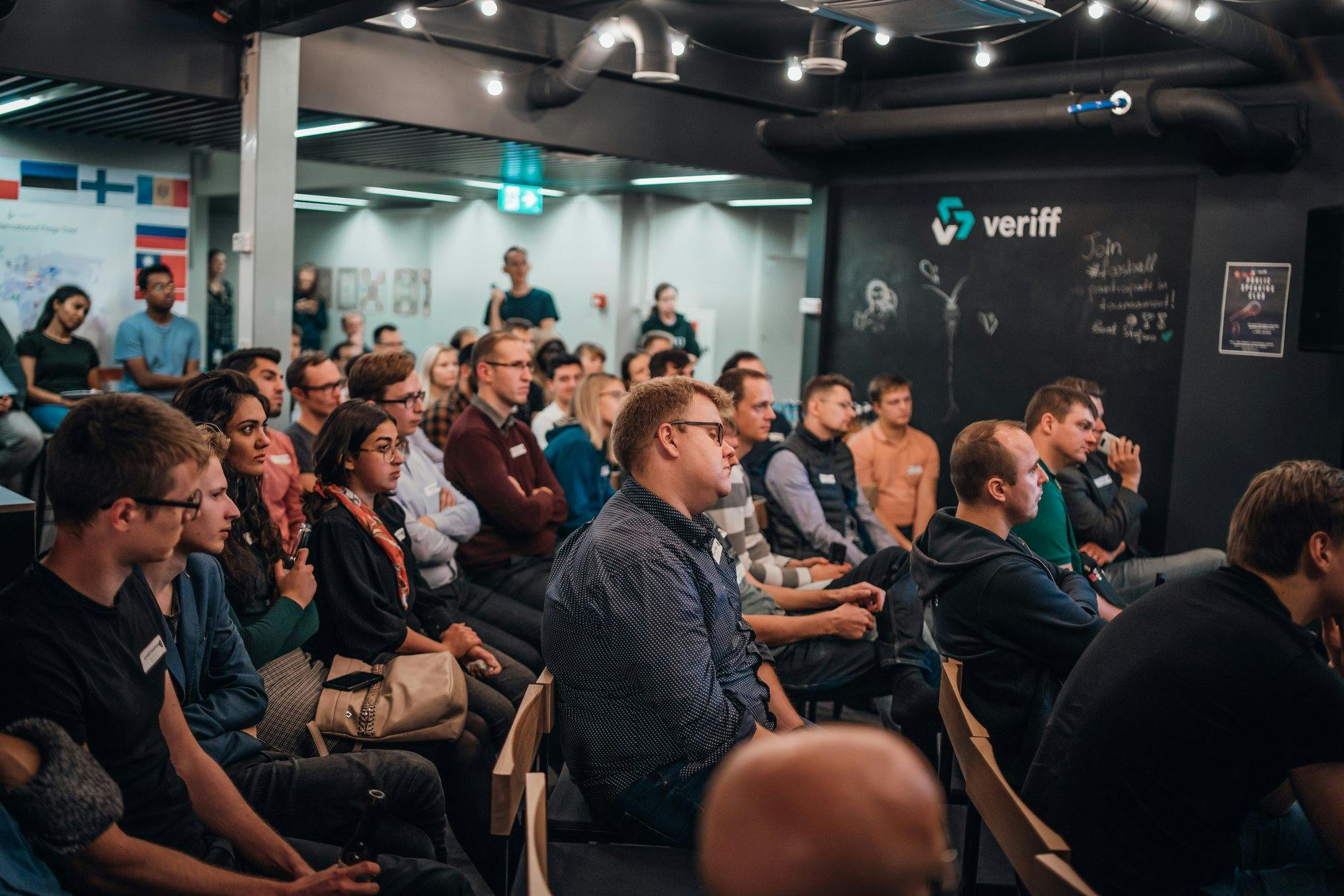 What a Mix & Mingle looked like in the Veriff office - back when they happened in person
We have a very international team in Veriff — you can find people from all over the world here. That's what makes it exciting to be part of the company. We always try to organize different fun and engaging online and physical activities for our team members. This way, the whole team connects and comes together, which makes our work more efficient. For example, last December, we organized an online internal hackathon, where our employees came together to find solutions and improve our product. We had quite a lot of people interested in it and you could see how excited people were to bring their ideas to life and improve the product through that. The results were amazing, and everybody was happy!
We also allow our employees to work remotely, which gives them an option to work from wherever they feel the most comfortable. We value our team members a lot and do everything to create a challenging and fun working environment. Now in the COVID times, our priority is that everybody is safe and healthy. 
What were the main challenges with the growth of the company?
Veriff had a massive growth in 2019. For that, we had to develop an appropriate process to grow fast in the most effective way. We had to think about how to make this organization scale. It was exciting and challenging times to have 10–12 new people joining us every week. 
It is essential for us to choose the right people for Veriff. So we look at what value they bring to the company —  if they are a good fit for the team, and if they are aligned to the company values. This is why one of our challenges was to reach a lot of people in Estonia and all over the world fast, to find "our people." We have done lots of campaigns and events to stand out in a market with already so many great employers. 
It's also very important for me and my team to make sure people can move internally between different roles. These internal movements and sharing experiences add value to different teams and help the company develop. It's always a highlight for me when I see our employees growing together with the company. 
What are the core values of Veriff?
Our company values are fundamental to us. We came up with them together as a team at the beginning of 2019 — we had a team offsite, where we did great workshops and exercises to define these values and use them to grow the company in the right direction.
We make sure that we implement our core values in our everyday life — we trust each other to make decisions. Everyone always wants to come up with different solutions. Team members have each other's back. We value the execution, and, most importantly, we are a force for good! These are the things that guarantee our success as a team.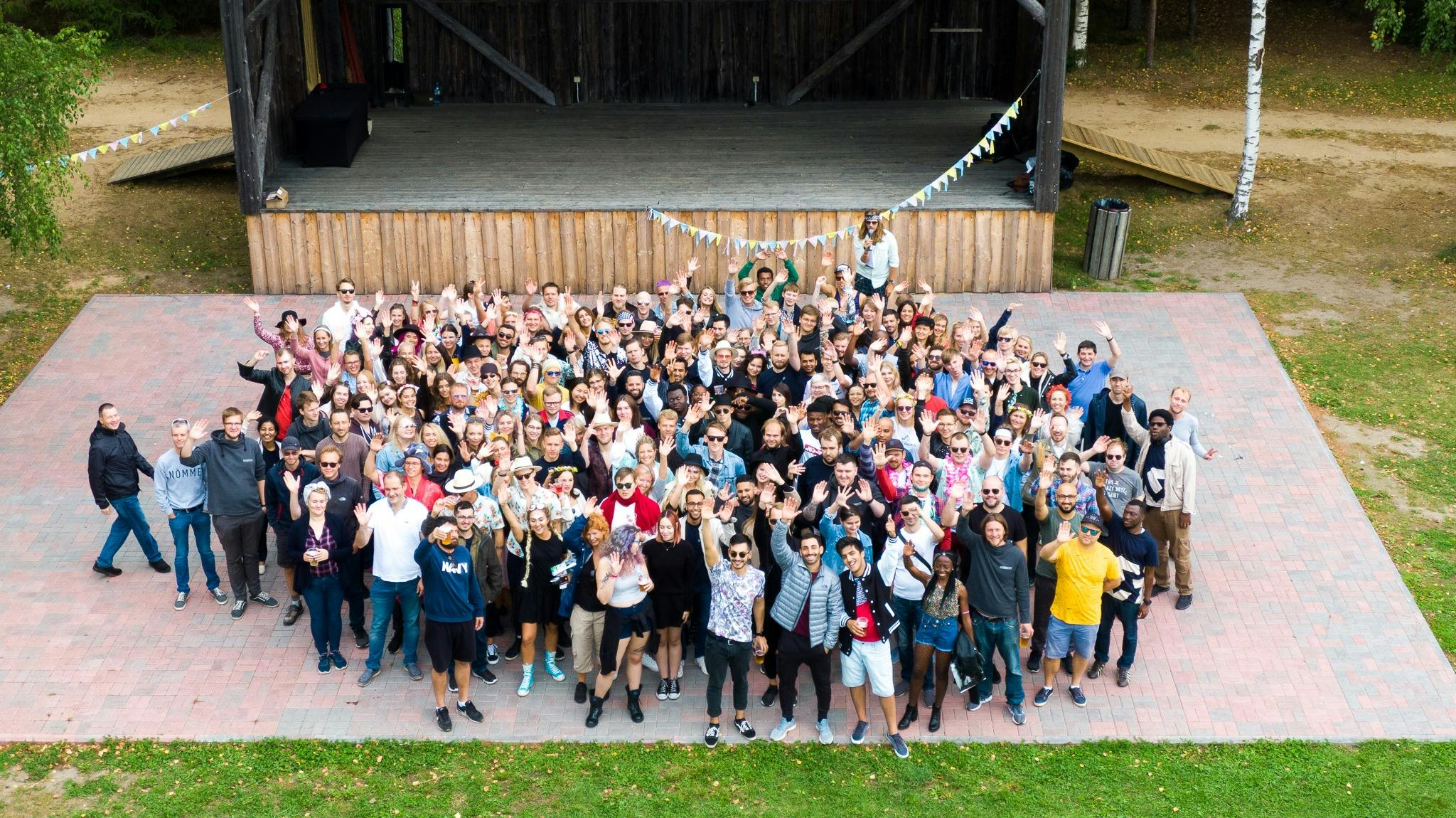 The Veriff team enjoying their Summer Days in 2019
Our mission is to create trust in the digital world — there are many companies worldwide that need our help with that. So we need to make sure that the people of Veriff are aligned to the company values to contribute to creating a powerful tool that will help us accomplish the mission.
Finally, what would your message be to the young entrepreneurs who are just entering the field and want to create something big?
Work on something that truly matters to you. If you believe in what you do, all obstacles are much easier to overcome, and the excitement levels are always high. 
In summary...
It was great to have a chat with Kristiine from Veriff. Actually, I have been part of the Veriff team for almost two years now, and this company has helped me grow and learn new things a lot! Working here with these amazing people is a great experience! It was very interesting to hear the insights about our corporate culture, which is the key element of the company success.
This article was first published by Startup Adventures. Showing how the Startup mindset works.
For more stories and adventures follow their Facebook and Instagram pages. They even have a podcast - check it out!