If the amount lost to cybercrime was measured as a country, the global cost, which topped $6 trillion USD globally last year, would be the world's third-largest economy after the U.S. and China. 
In fact, the yearly costs inflicted by cybercrime could reach as much as $10.5 trillion by 2025. With this in mind, it's easy to see why the cybersecurity space has grown rapidly over the last few years. Investors are recognizing the potential too, as funding for cybersecurity ventures has more than doubled from previous years to almost $22 billion in 2021. 
Veriff knows that cybersecurity is a day-to-day operation for countless businesses, with many now deploying security processes such as online identity verification and biometric authentication. However, with increasingly sophisticated attack methodologies such as machine learning and quantum computing, security startups are receiving record funding. 
We've given each startup a score out of 100, based on the total funding amount, number of investors, funding series, number of employees, uniqueness, and Twitter following to find out who the hottest cybersecurity startups are.
Ranking America's cybersecurity startups
In first place is Snyk, a developer security platform for securing custom code and cloud infrastructure, with a score of 75 out of 100 based on our ranking factors. Founded in 2015, it enables millions of developers to build software securely and is used by big names including Google and Salesforce. 
Last year the startup announced a $530 million Series F investment to accelerate the industry's shift to developer security. The company now has a valuation of $8.5 billion, making it the second most valuable venture-backed cybersecurity company in the world. 
In second place is Tanium, with a score of 69 out of 100. Tanium is an endpoint management and security tool where customers can retrieve data on every endpoint and can execute changes in seconds. This allows organizations to boost protection from cyber threats. Its customers include website hosting company GoDaddy and home appliances company Whirlpool. At the time of the company's $150 million financing round last October, Tanium was valued at more than $9 billion.
Lacework rounds up the top three, with a total score of 62 out of 100. The data-driven security company for the cloud has raised nearly $1.9 billion, with a market capitalization of $8.3 billion. Revenue tripled for Lacework in 2021 on a 350% growth in new customers.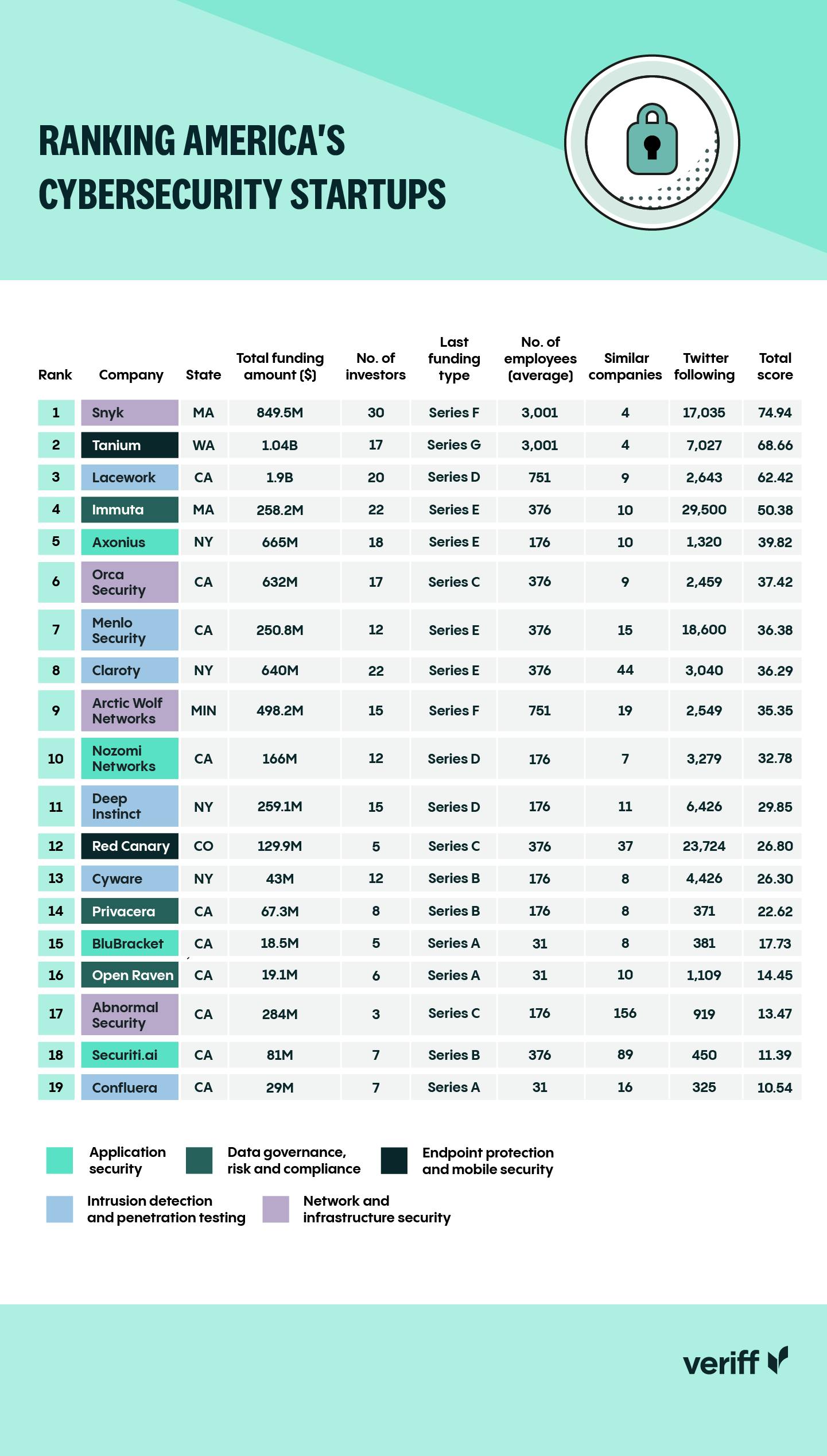 How does funding compare across cybersecurity startups?
Due to the growing number of intrusions, organizations are increasingly implementing various systems that monitor IT security breaches. In particular, startups specializing in intrusion detection and penetration testing have recently gained a considerable amount of interest. 
Six startups in our ranking specialize in the defence system, which detects hostile activities in a network. Some of the leading startups in this space include Lacework, Menlo Security, Claroty, Deep Instinct, Cyware, and Confluera. Overall these startups have raised over $3 billion in funding, making intrusion detection and penetration testing the category which attracts the most funding. 
Snyk, Orca Security, Arctic Wolf Networks, and Abnormal Security are leaders in network and infrastructure security, which have received over $2 billion in funding. These startups specialize in protecting the underlying networking infrastructure by installing preventative measures to deny unauthorized access, modification, deletion, and theft of resources and data.
The startups leading the way in endpoint protection and mobile security are Tanium and Red Canary. These startups specialize in protecting devices like desktops, laptops, mobile phones, and tablets from malicious threats and cyberattacks. With the help of over $1 billion in funding, endpoint protection has evolved from traditional antivirus software to providing comprehensive protection from sophisticated malware and evolving zero-day threats.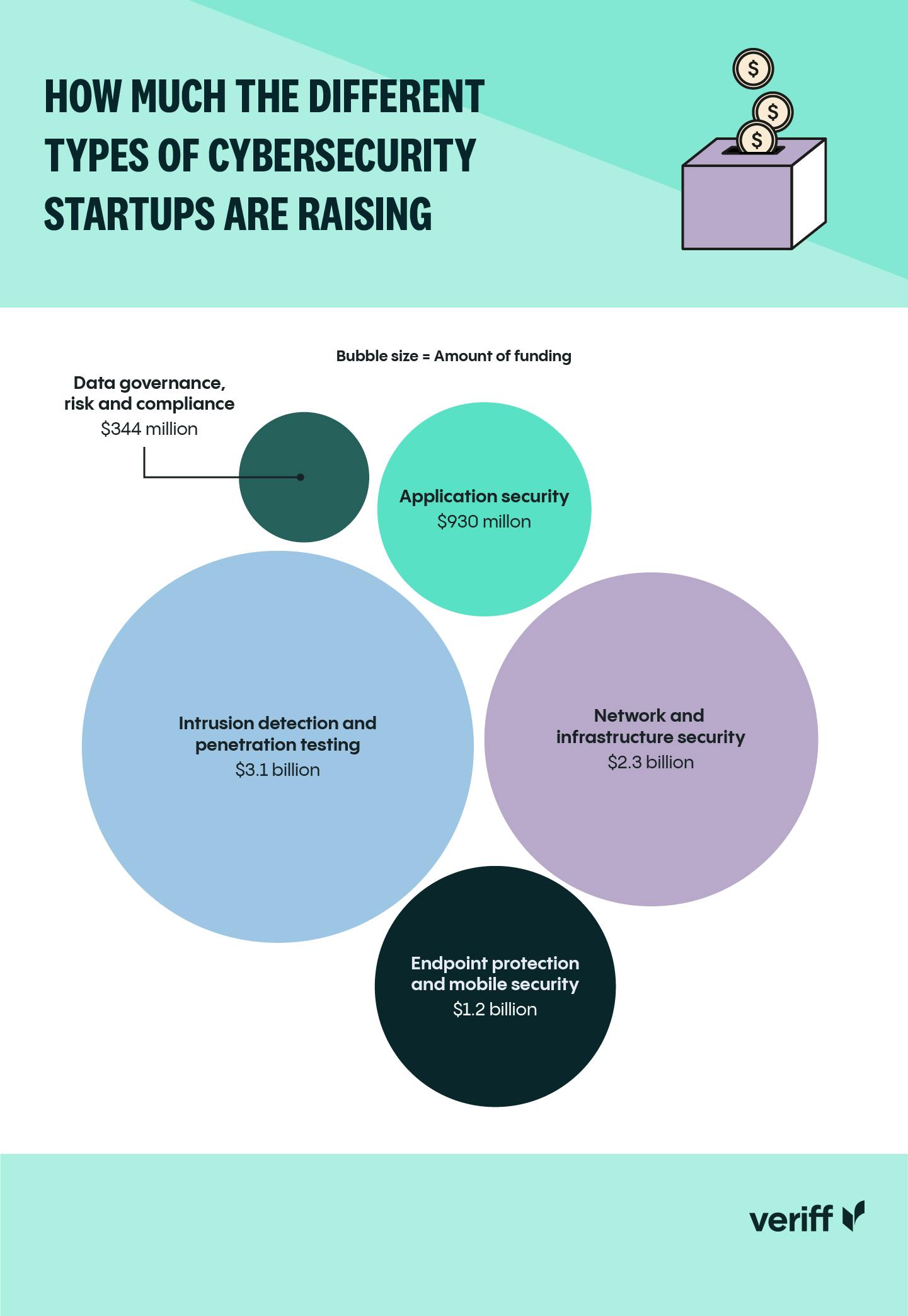 The startups which have raised the most money in the least rounds of funding
Many startups have to complete a number of fundraising rounds before getting to the initial public offering (IPO) stage. These fundraising rounds allow investors to invest money into a growing startup in exchange for equity or ownership. 
Series A and Series B rounds are funding rounds for earlier stage companies whereas series C rounds and onwards are for later stage and more established companies. These rounds are usually more than $10 million and are often much larger. The data below highlights the startups which have raised the most money in the least rounds of funding as well as the number of investors for each type, to reveal the hottest cybersecurity startups in the United States.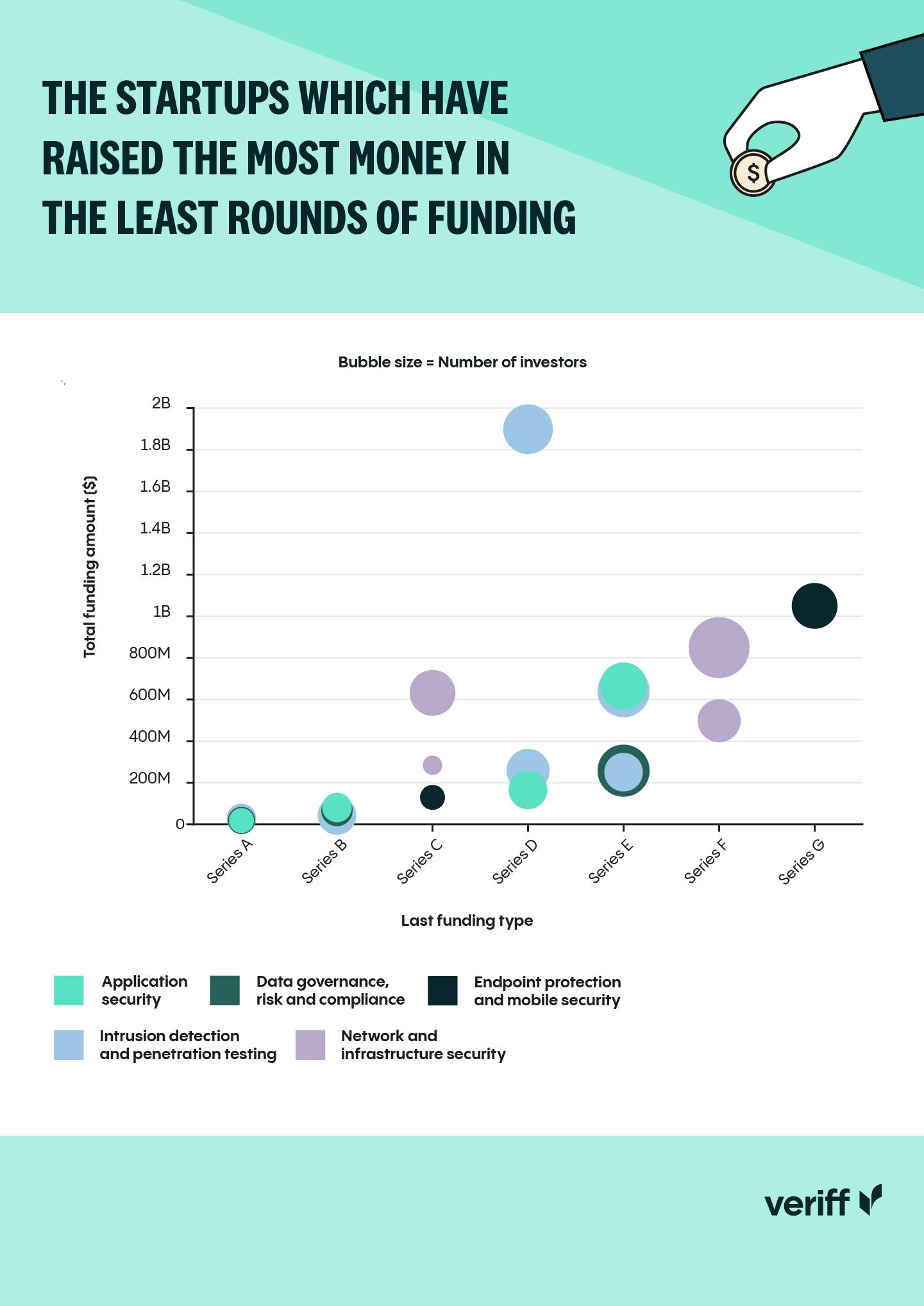 The most unique companies
Using Crunchbase we've been able to identify the most unique startups. Crunchbase analyzes attributes like industry and company descriptions to show similar accounts that are possible competitors. From this, we have been able to uncover the startups with the fewest matches and therefore the most innovative and trailblazing. Tanium and Snyk lead the way, with only 4 similar companies, while Nozomi Networks and BluBracket follow with only 7 and 8 similar companies respectively. 
Innovations in cybersecurity are laying new foundations to defend against unwanted attacks, and it's these innovations that make these startups unique. Many emerging technologies are responsible for the cybersecurity industry's production of innovative developments, including artificial intelligence and blockchain.  
The use of artificial intelligence (AI) has accelerated the process of detecting abnormalities. Through AI, large amounts of data can also be processed to predict cyber threats before they occur. AI can also send alerts when cyber security breaches occur so that security patch fixes are deployed without human intervention. 
With blockchain, transactions for purchasing items, transferring assets, and more, are recorded digitally, making it easier to detect suspicious activities. Blockchain can also secure systems of individual devices through decentralization. This prevents distributed denial of services attacks from occurring more frequently. It's new technologies like these that are providing the most innovative and cutting-edge startups in this space. 
With cloud-based backup becoming the place of choice to save data, a range of new threats have emerged, making investments in cybersecurity a necessity. At Veriff, we believe it's clear to see that cybersecurity startups with strong support from investors are set to disrupt the space with their pioneering technology and unique solutions to combat hackers and online threats. To find out more about the industry, take a look at the companies leading the way in cybersecurity.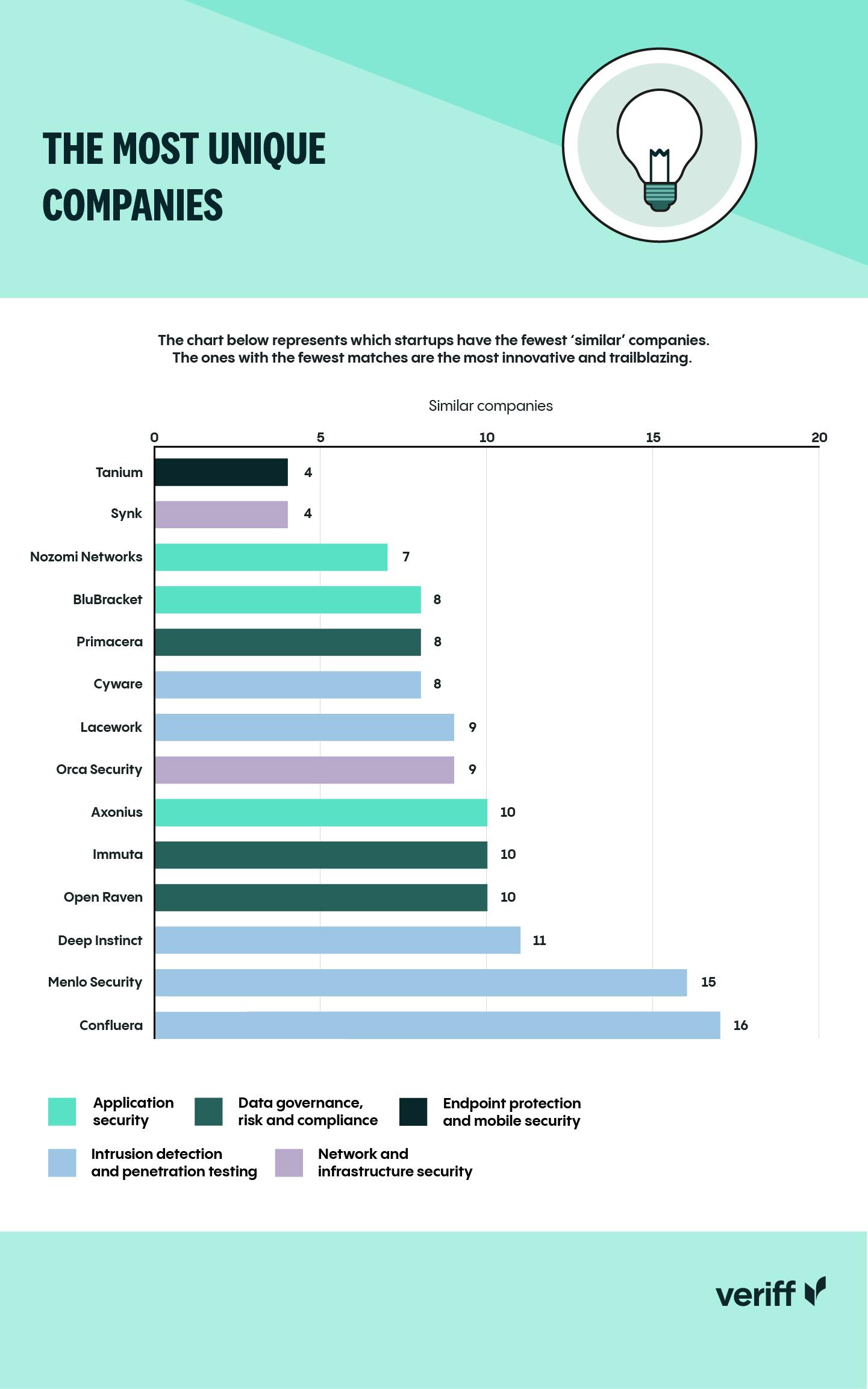 Methodology
To learn more about different cybersecurity startups in the space, we chose a list of companies using Exploding Topics and Esecurity Planet's lists. 
We then narrowed our companies down to just those which are based in the US and those which are private companies to allow for like-to-like comparison. We then categorized our list by their main function so we can better understand what the most popular types of start-ups are. 
To analyze these companies further we used Crunchbase, looking at the following:
Total funding amount
Number of investments
Number of employees 
Last funding type 
Similar companies
Social media following
We then put these into a weighted index to compare them against each other to find out which have raised the most funding, which offer the most unique product, and which have the best social media following. Data correct as of July 2022 and is available upon request.