Every 39 seconds, there is a new attack somewhere on the web. This figure has only gotten worse since the pandemic began, as the FBI reported a 300% increase in cybercrimes – such as cyber-attacks and data breaches – since pre-COVID-19. Due to this increase in breaches, the need for a larger cybersecurity workforce has gained priority. 
With a reported 3.5 million unfilled cybersecurity job vacancies from this year alone, there is now a higher demand for services such as identity verification to help safeguard businesses from fraud. Fraudsters are having to be smarter and in turn, so does the cybersecurity workforce. AI-powered identity verification and open job roles across all fields within cybersecurity is a positive result of this industry growing and improving.  
Following a reported 350% growth in open cybersecurity positions from 2013 to 2021, it is clear that the demand for jobs in cybersecurity is constantly growing. And with an upper-end salary of $420,000 it's no surprise, there is a keen interest. It is predicted that cybersecurity jobs will grow 31% by 2029, over seven times faster than the national average job growth of 4%.  With the pandemic changing the way companies need to run and conduct their businesses, 68% of business leaders feel that cybersecurity risks are increasing, resulting in a higher demand for cybersecurity job roles.
The US comes out on top as the country with the largest cybersecurity workforce at nearly 900,000 employees, closely followed by Brazil with just over 600,000. Mexico comes in at third having nearly half a million employees and, to no surprise, over 9.9 million malware attacks were registered in Mexico in just the first half of 2020. The US, when analysed against its population, gets pushed down to ninth place, while Singapore takes the top spot with the largest percentage of its population employed in cybersecurity, at 1%. 
We have analysed the companies leading the way in cybersecurity by finding the ones who are hiring the most, as well as the most sought after job titles.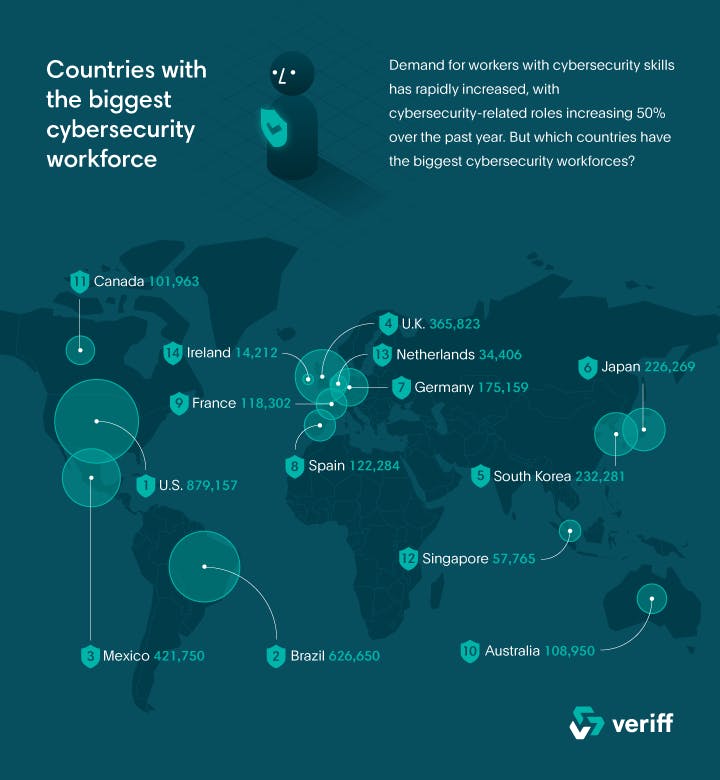 Seven out of the top 10 cybersecurity companies we analysed are based in the US, followed by two from the UK and one from Canada, with a total of 1068 job openings. Our number one spot is taken by Netskope, interestingly one of the youngest companies at only nine-years-old. With an overall employee base of 1001-5000 people, they are looking to expand their workforce by over 10% showing the big plans that Netskope has to improve and grow as the demand for cybersecurity increases.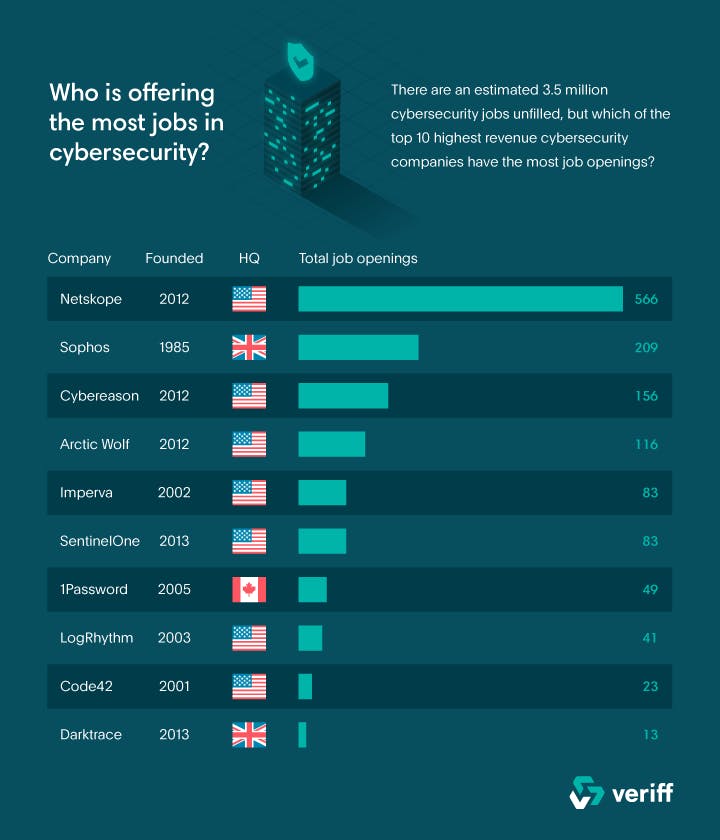 Jobs in engineering and sales are the most sought after, making up nearly half of the total job openings, featuring roles such as software engineer and sales engineer. Over a quarter of the total job openings fall under the Engineering department, with the top job opening being Senior Software Engineer. Learning skills in software is a great way to get into a cybersecurity job, with 30% of the department's top jobs being software-based.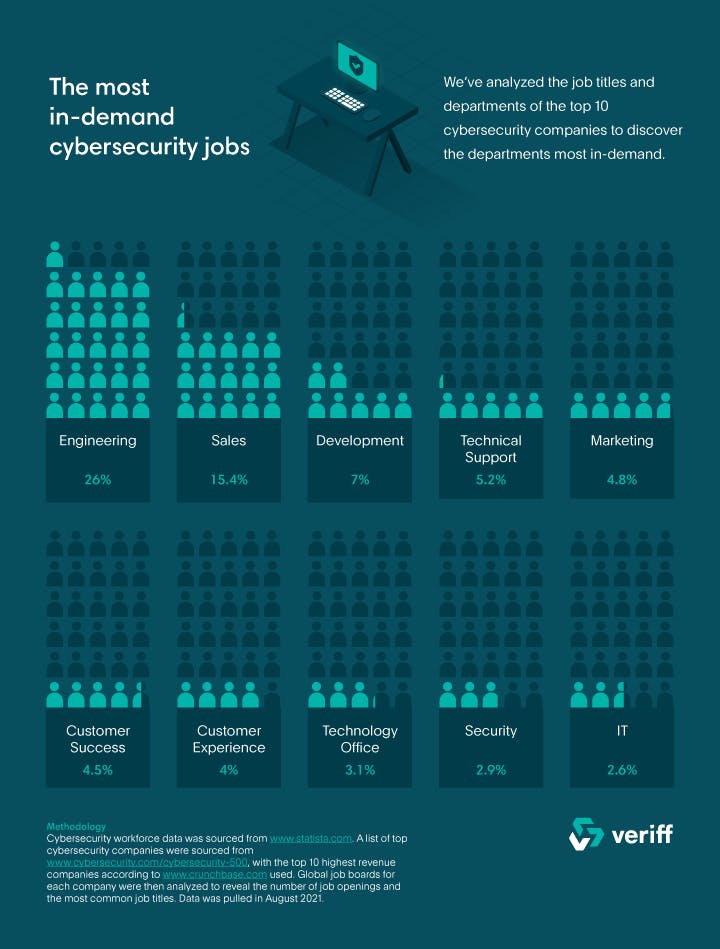 Methodology:
We have identified the top cybersecurity companies from www.cybersecurity.com/cybersecurity-500 and then taken the top 10 highest revenue companies from www.crunchbase.com. By searching the job boards of each company, we are able to compare the search results to the total number of openings along with most in-demand job titles. Global job boards were used for all companies. Data pulled August 2021.