73% of parents believe that online identity verification should be a legal requirement for social media platforms. The "metaverse" is an online world that utilises augmented and virtual reality to create a hyper-realistic world that exists solely online. Online identity verification will become increasingly important in the metaverse world. Through its AI-powered, video-first approach, Veriff is able to prevent more fraud than any other industry player.
Eight out of 10 parents worldwide are worried about their child's online safety. These concerns are only set to grow as the online world evolves, with recent advances in the metaverse accelerating the need for solutions to protect children online. It is estimated that the metaverse market may reach $783.3 billion in 2024, making the establishment of digital trust critical for everyone using it. 
Here at Veriff, we wanted to understand how parents feel about their children's online safety and how age verification software and online identity verification can help make the metaverse a safer space for everyone using it. We surveyed 2,000 UK adults to gather insights and here is what we found.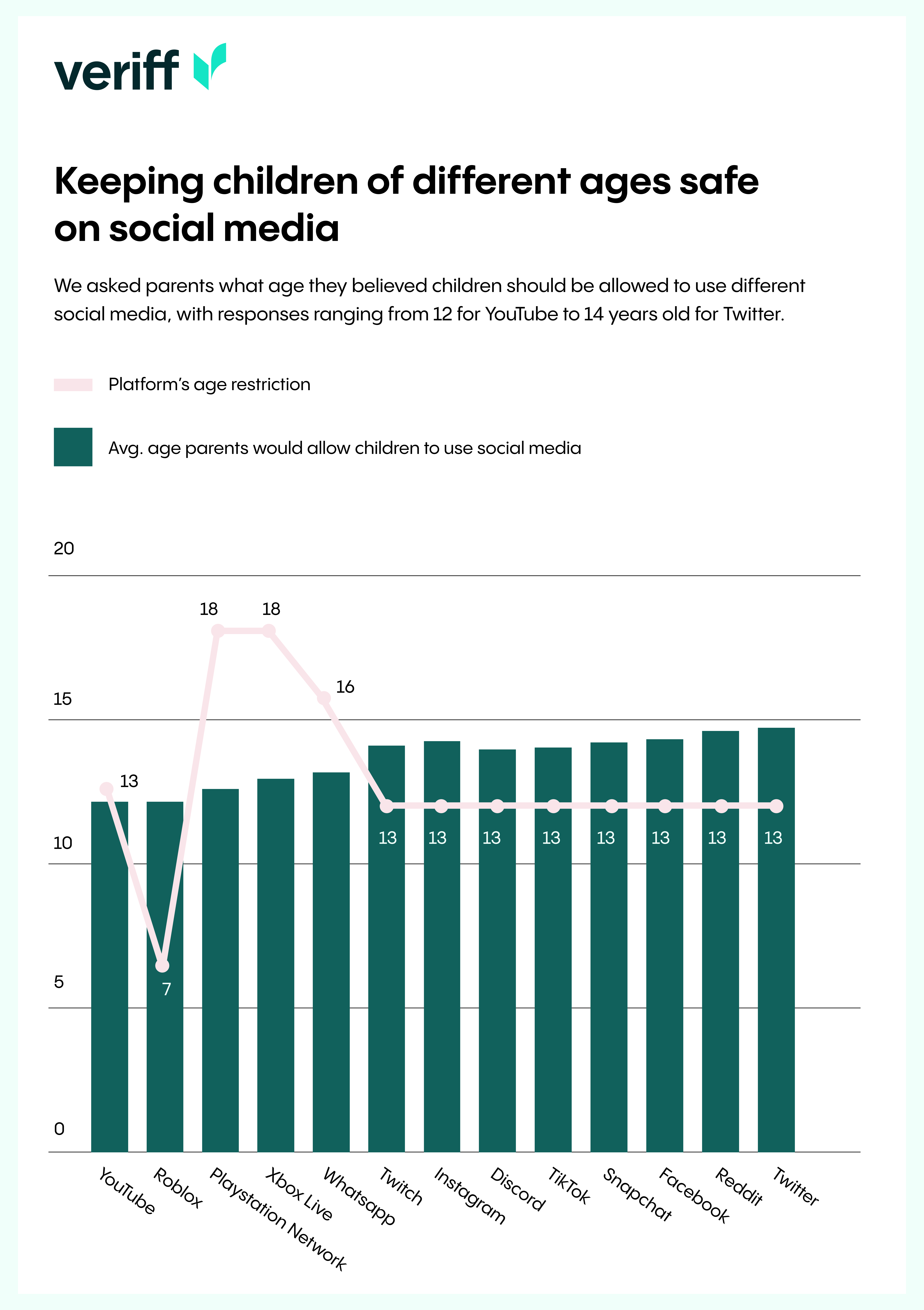 Keeping children of different ages safe on social media
We asked parents what age they believed children should be allowed to use different social media, with responses ranging from 12-years-old for YouTube to 14-years-old for Twitter. 
Parents were most likely to allow their children to use video and gaming sites at a younger age, whereas respondents stated they would prefer their children to wait until they were older to start using platforms such as Twitter, Reddit, Facebook and Snapchat. 
46% of parents are unaware of the age restrictions in place for social media platforms. We can see that there is a disparity between the age limits imposed by the social media platforms and the ages that parents stated.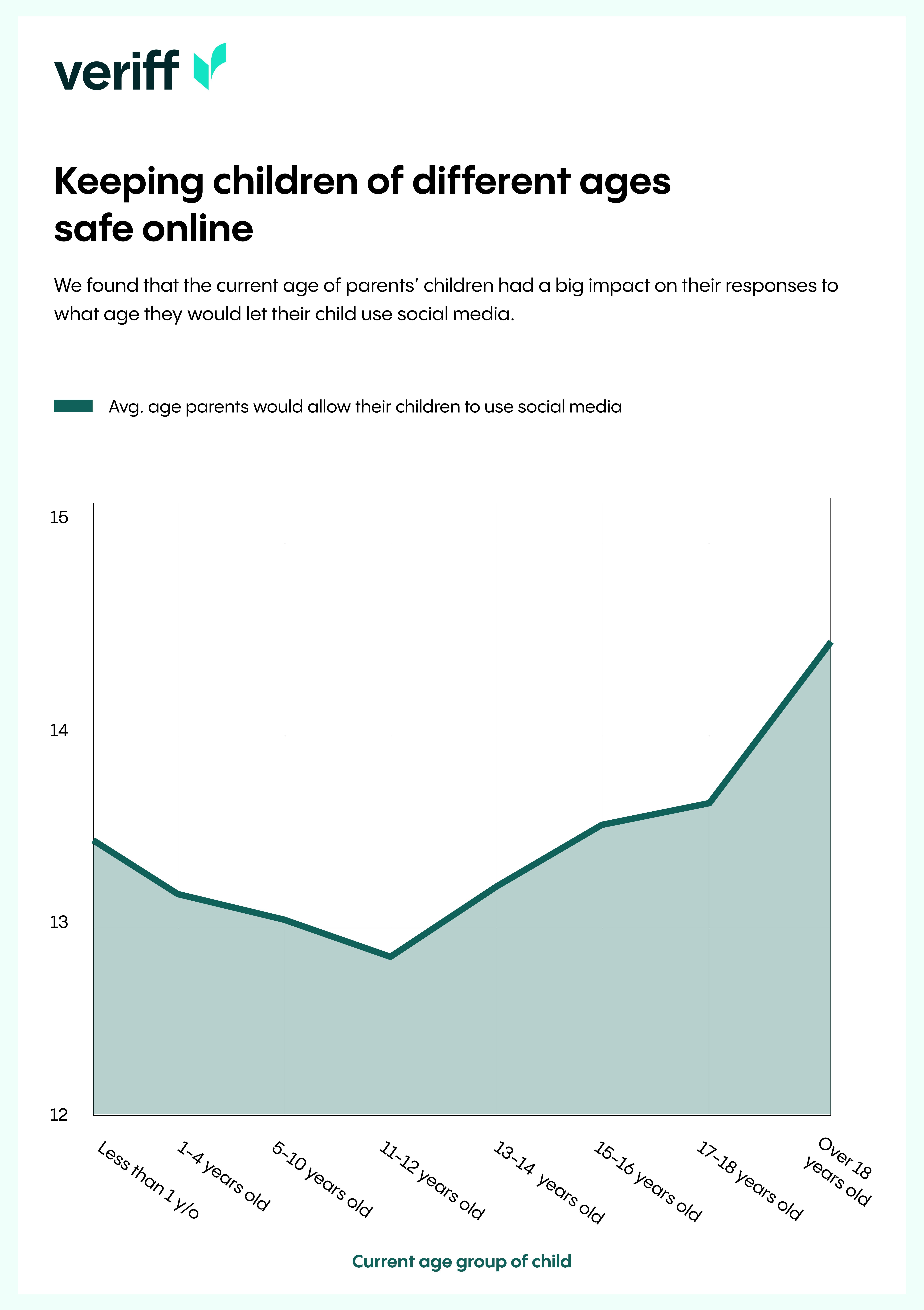 Keeping children of different ages safe online
The current age of parents' children appears to play a big part in their views of keeping them safe online. We can see that parents of teenagers are more cautious than those who have children under 12 years old. Additionally, as the children of parents surveyed got older, the views become stricter with parents feeling the age children should be allowed on social media should be higher than those with younger children.
This could be due to the fact that they have already experienced their child using social media and their experiences with this have changed their view. 44% of parents are concerned about the metaverse when it comes to child safety, so in the future parents may want their children to wait even longer before accessing online content. However, 41% of respondents do not know what the metaverse is yet, which shows online education is key. 
Our survey revealed that 18% of respondents have let a child access online content that is under the specified age limit and 41% believe it is impossible to keep children safe online. The age of the parents also appeared to have an impact on their views of children's online safety, with more 16-24-year-olds parents believing that it is impossible to keep children safe online compared to those aged 55+.
70% of over 55s believe tech companies are responsible for protecting children online, whereas 48% of 16-24-year-olds share the same belief, suggesting that attitudes to online safety differ between generations, with younger parents feeling that the responsibility for staying safe online sits with the individual using the internet.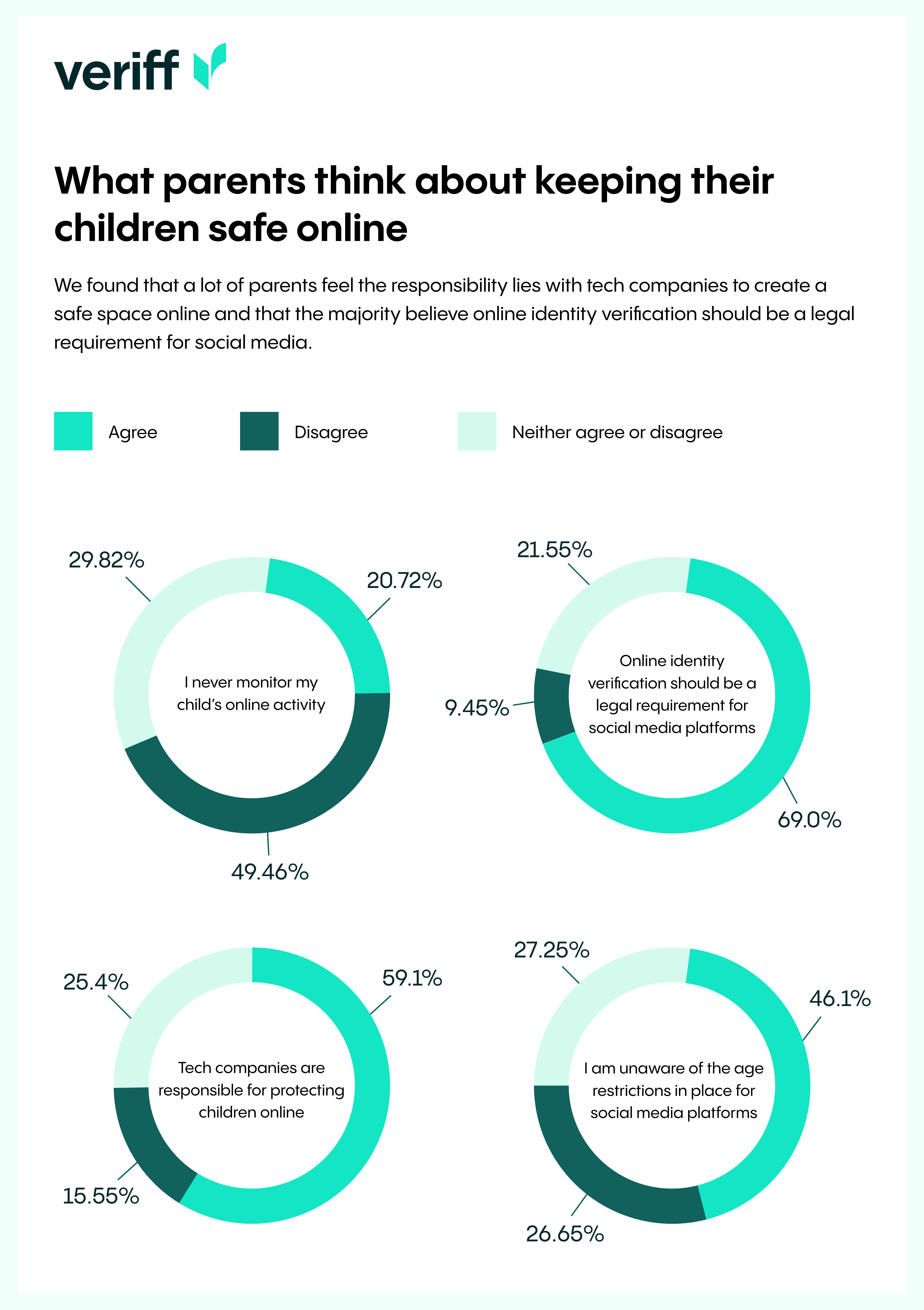 What parents think about keeping their children safe online
While almost half of parents (49%) disagreed, more than one in five (20.7%) say they never monitor their child's online activity, which could be influenced by the majority of parents (59%) believing the responsibility lies with tech companies to create a safe space online for their children. This, again, could be due to a lack of online safety knowledge as the majority (46%) of parents admit to being unaware of the age restrictions in place for social media platforms. 
Parents of boys reported that their sons had been exposed to inappropriate content more often (13%) than parents of girls (11%). Despite this, parents of boys are less likely to talk to their child about online safety, with 20% reporting they had never spoken to their child about the subject. This exposure to inappropriate content could be the driving factor for parents putting more trust into tech companies investing to keep their children safe, with over two-thirds (69%) of parents advocating that identity verification should be a legal requirement for all social media platforms. 
Learn more about how our metaverse identity verification solutions can help companies protect all of their users online including children.
Methodology
You can view the full survey results here. 
Survey research was conducted by Censuswide on behalf of Veriff with 2,000 nationally representative respondents across the UK between 08/03/2022 - 11/03/2022. Censuswide abide by and employ members of the Market Research Society which is based on the ESOMAR principles.
How can Veriff help
Veriff is a global online identity verification company that enables organizations to build trust with their customers through intelligent, accurate, and automated online identity verification. Our technology helps to match a person with their government-issued ID. Knowing the identity of your customers and users helps to protect users and children in the metaverse.