71% of survey respondents stated that they were afraid of being victim to a cybercrime while using the internet, with more than one in six being afraid of online banking scams. It's easy to see why, as according to the UK's National Fraud Intelligence Bureau's Fraud and CyberCrime Dashboard which analysed reports over the past 12 months, there have been 426,996 reports of cyber crime and fraud, and a total of £3.1 billion has been lost across the UK. 
Hopefully, with advances in online identity verification and biometric authentication the online world, including the metaverse will become a safer place.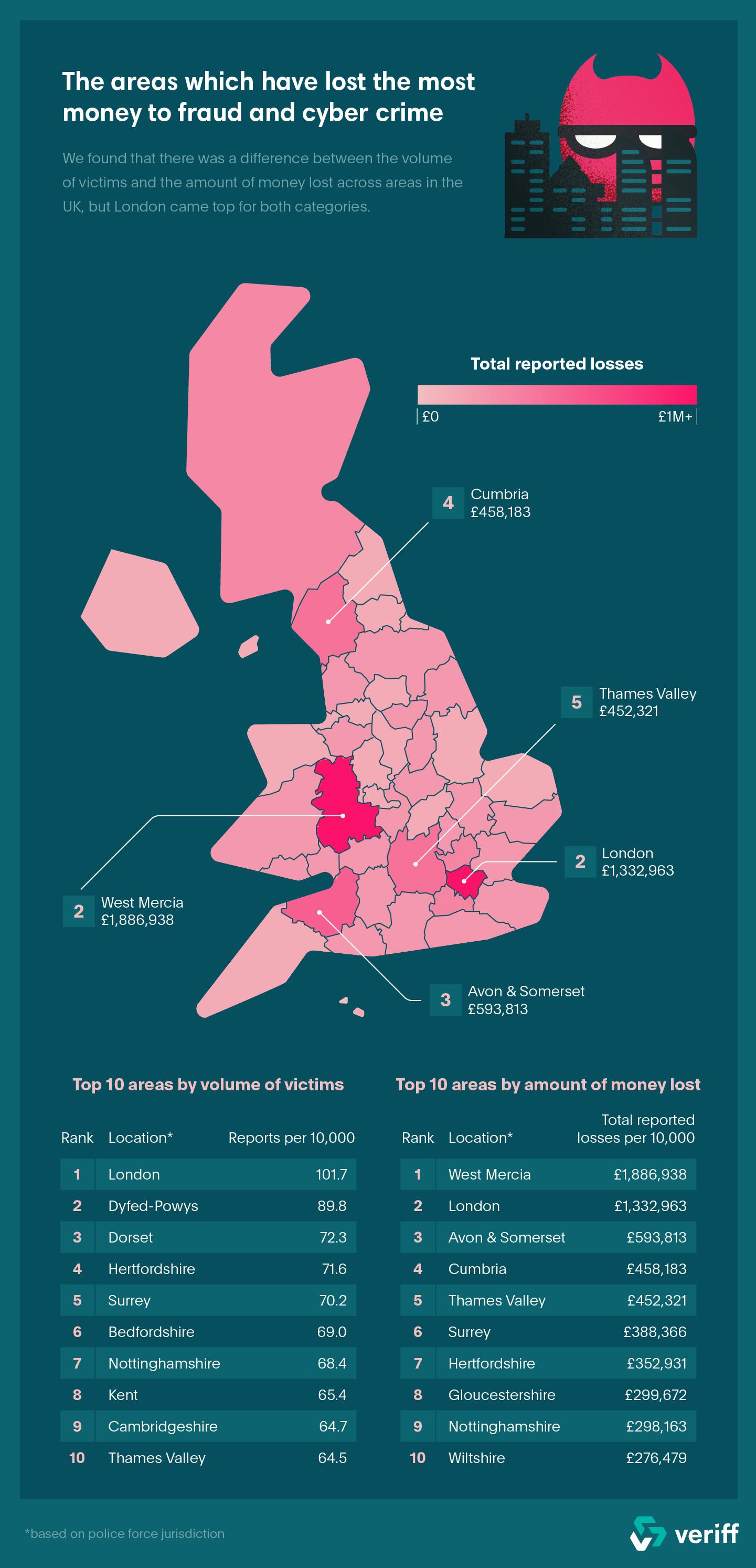 A map showing crime statistics in the UK's largest cities
The areas which have lost the most money to fraud and cyber crime
We found that there was a difference between the volume of victims and the amount of money lost across areas in the UK, but London came top for both categories. 
London is revealed to be the place which has the largest number of victims reporting cybercrime per capita - with 101.7 reports per 10,000 people. Surprisingly, in second place was Dyfed-Powys, an area in Wales which includes Carmarthenshire, Ceredigion, Pembrokeshire and Powys, where there were 89.8 reports for every 10,000 people who live there.
When we look at reported losses per capita, we can see that West Mercia, made up of Herefordshire, Shropshire, Telford, Wrekin and Worcestershire, lost £1,886,938 per 10,000 people - which works out at a shocking £189 per person. The capital came second highest for losses, with a reported £1,332,963 loss per 10,000 people - working out at £133 per person.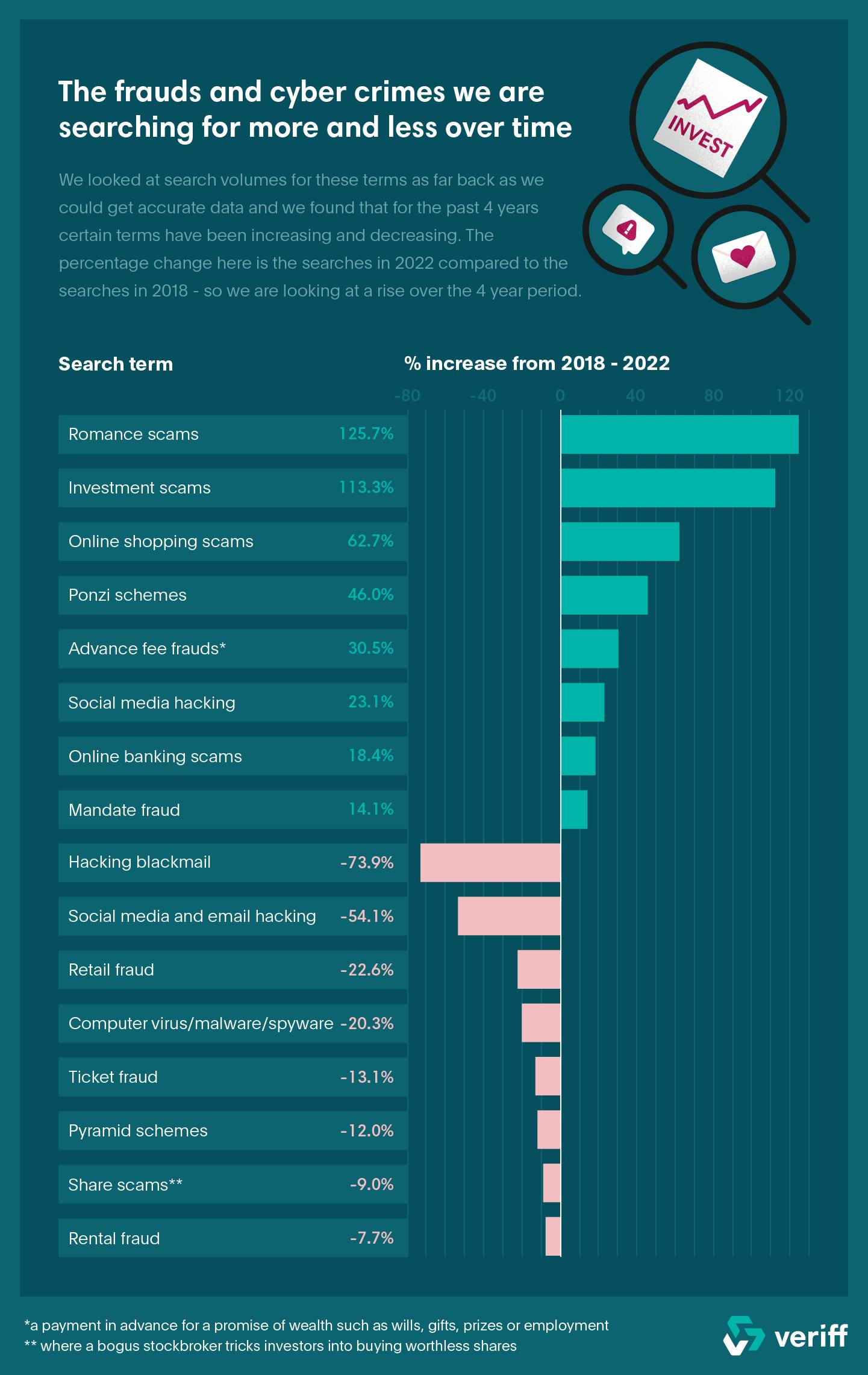 The frauds and cyber crimes we are searching for more and less over time
We looked at search volumes for these terms as far back as we could get accurate data and we found that for the past 4 years certain terms have been increasing and decreasing. The percentage change here is the searches in 2022 compared to the searches in 2018 - so we are looking at a rise over the 4 year period. 
People might turn to the internet to search for frauds and cyber crimes either because they have been a victim of them or because they have just become aware of the crime and want to learn more - either way a rise in searches suggests a spike in instances of these crimes. 
The crime which has seen the largest increase in search interest is 'romance scams', with a 126% increase since 2018. This could be attributed to the rise in popularity of online dating apps, as well as increased interest in infamous romance scams, such as the Netflix documentary 'The Tinder Swindler'. 
'Investment scams' is the second fastest-growing term with an increase of 113% since 2018. The third fastest-growing term, 'online shopping and auction scams', has increased by 63% since 2018. This could be because of the rise in online shopping during national lockdowns, as well as the general shift in trends towards online shopping. 
There have been terms which are decreasing in search popularity too, the most notable of these are 'hacking blackmail', which has decreased by 74%, followed by 'social media and email hacking' which decreased by 54%. The falling interest in these terms could be because of improved security features that websites have begun using which makes life harder for hackers. 
Other terms which are being searched for less in 2022 than in 2018 are 'retail fraud' (-23%), 'computer virus, malware, spyware' (-20%) and 'ticket fraud' (-13%).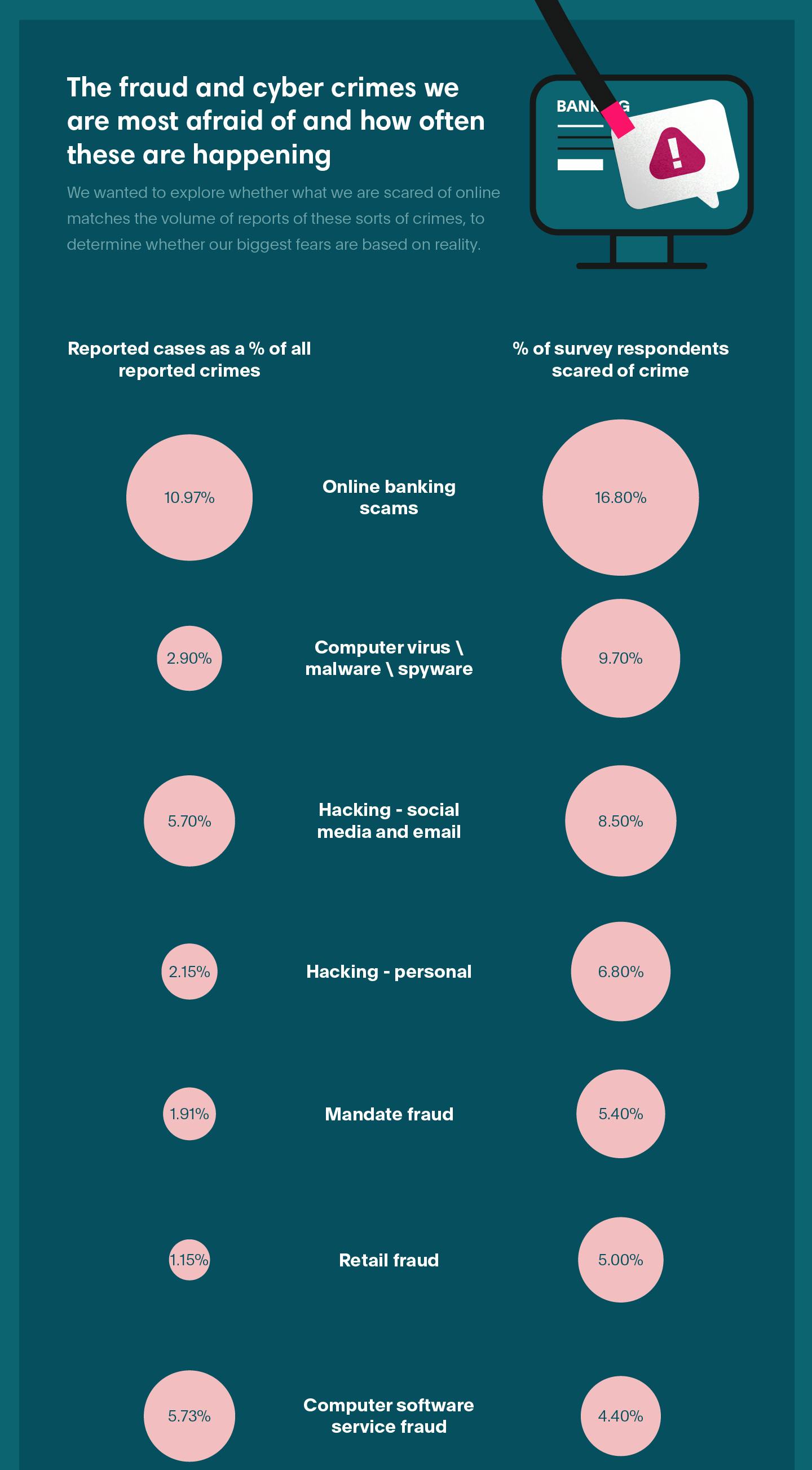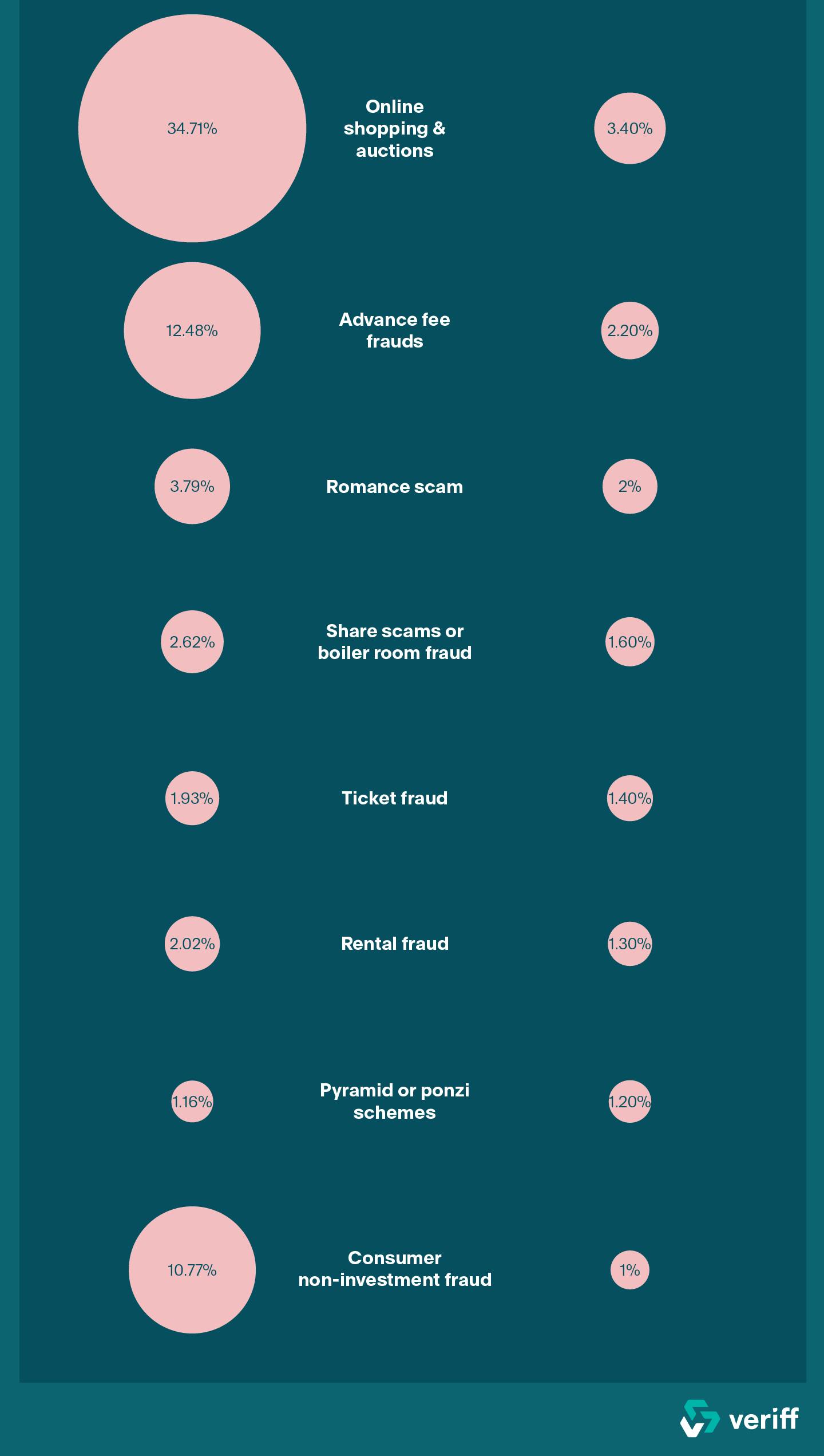 The fraud and cyber crimes we are most afraid of and how often these are happening
We wanted to explore whether what we are scared of online matches the volume of reports of these sorts of crimes, to determine whether our biggest fears are based on reality. 
Our survey revealed that the biggest fears we have are online banking scams, which 17% of respondents stated was their primary online fear. In second place is computer viruses, malware and spyware, with 10% of people stating this is their largest online fear. Hacking crimes make up third and fourth spots: social media and email hacking (9%) and personal hacking (7%).
But when we look at the actual number of reports (from the National Fraud Intelligence Bureau's Fraud and CyberCrime Dashboard over the past 12 months) we can see a different story. The most commonly reported type of crime was online shopping and auction scams, with 69,860 reports made over the past 13 months. The second most commonly reported crime was advance fee fraud (where scammers ask their victims to pay a fee upfront in advance of receiving money such as inheritance) with 25,117 instances. Neither of these crimes made it into the top 5 most common fears of respondents. 
The most common fear, online banking scams, is definitely founded in reality as we can see it's the third most common crime, with 22,080 reports. The next most common crime is consumer non-investment fraud (falling victim to the use of deceptive, unfair, or false business practices), which has 21,684 reports, but only 1% of survey respondents claimed they were afraid of it. 
The least commonly reported crime is retail fraud, which 5% of respondents reported as their biggest fear, suggesting that our perceptions of online dangers aren't correctly aligned to the most likely cybercrimes. It's important that we all educate ourselves on what the dangers are online and the best ways to keep ourselves safe. 
At Veriff we take fraud and identity theft very seriously, you can find out more about the impact of fraud in our reports and you can get an even more in depth view in our Identity Fraud Report 2021.
Methodology 
We analyzed the UK's National Fraud Intelligence Bureau's Fraud and Cyber Crime Dashboard to establish a list of the most common fraud and cyber crimes in the UK. We also found the number of victims per crime and the amount of money victims lost per crime, as well as regional breakdowns which are police jurisdictions.
We pulled search volume data from Google Keyword Planner. For some crimes from the government data the wording was changed to match what a user would search in order to create reliable results. In cases where there is more than one scam per crime we collected individual search volumes and then added them together.
We then surveyed 1,000 UK adults to find out which internet crime they are most afraid of when using the internet.
Finally, we compared the results to find out whether the things we are searching for and the things we are afraid of match up to the real crime statistics.
Some crimes have been omitted from the list where comparable data was not available.
Get in touch if you have any questions regarding the methodology. 
Data correct as of May 2022. 
How can Veriff help
Veriff is a global online identity verification company that enables organizations to build trust with their customers through intelligent, accurate, and automated online identity verification. Our technology helps to match a person with their government-issued ID. Knowing the identity of your customers and users helps to protect users and children in the metaverse.