If you've ever sat down to watch a Hollywood movie, and it's dealt with the travails of US teenagers or tales of global espionage, you might have seen a character produce a fake ID. These are either used for comedic effect or in a moment of tension where a character needs access to a vital room/floor/building, and more often than not everything works out well.
At Veriff identifying fake IDs is our bread and butter. So, we wanted to see: how would famous fake IDs fare in the real world? How might Veriff determine their validity or lack thereof? 
As our first example, we decided to use one of the funniest fake IDs in modern cinema - the Hawaiian driver's license belonging to McLovin in the 2007 film Superbad.
The fake ID
In case you've never seen Superbad (and if not, you should), here's the situation where the ID is produced (we've already been shown the ID in an earlier scene with his friends): the underage character Fogell, played by Christopher Mintz-Plasse, is attempting to buy beer in a convenience store, and shows his Hawaiian driver's license featuring the now infamous name 'McLovin'.
The store clerk looks at it dubiously, before the store is then suddenly robbed, leading Fogell to be knocked out and soon after have to produce the same ID in front of 2 bumbling police officers. In every instance, his ID seems to work, even on the cops.
But would it work with Veriff identity verification? Let's break it down.
The details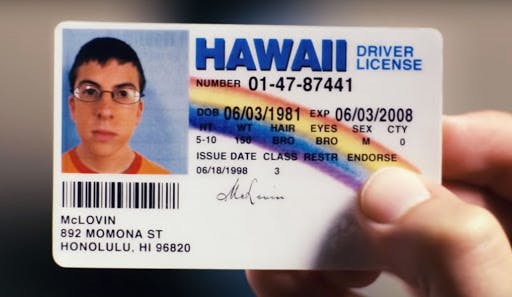 Name - Of course it's the source of the comedy in the film, but single names are more common than you might think. So, as funny as it sounds, the name McLovin wouldn't see this ID rejected outright. Even if it's a 'dumb, made up fairytale name'.
Dates - This is another suspicious factor, as Hawaiian licenses tend to run for only 6 years, and not 10, as shown on McLovin's ID. The fact his birth date (at the time) put him at 25 years old, is less suspicious - people do have youthful faces sometimes!
License Number - There are problems here too, as most Hawaiian driver's license numbers start with a capital H, followed by 8 digits. 
Style - In terms of the look of the license, this is correct for a driver's license issued at this time. 
Barcode - The barcodes on US driver's licenses have evolved since this type of ID was issued - they're now on the back of the license and don't look like a traditional barcode. 
How we check a US driver's license
Of course, unlike in Superbad, we aren't standing in front of Fogell and deciding whether or not he's really McLovin. He'd go through our verification flow online, and our fully automated process would check his license in the background as soon as his photos were uploaded.
We'd then quickly pick up on any obvious inconsistencies and the ID would be rejected without any human intervention, thanks to machine learning.
So would he be verified?
Based on the front of the ID alone, he'd be treated as suspicious, and likely rejected. And that's got to be seen as comforting given he likely didn't pay much for his fake ID. He's also likely doomed anyone else named McLovin to be treated as suspicious in the future.
And the ID itself has even been used fraudulently since the movie came out - but not via Veriff. Not yet anyway.
Up next - the other super spy called JB, Jason Bourne.