To discover more about the project, including why it started, what it involves, and what the outcomes have been, we sat down with Kalev Rundu, Senior Product Manager, plus course participants Geir Oss, Kristjan Kond, and Lilit Stepanyan. Read on to find out more.
Hi Kalev! Tell us a little bit about the Product Academy Project; why did you launch it and what is the program like? How long was it?
Product Management is a very interesting and promising area to be involved in currently. The demand for critical Product Management professionals such as Product Managers and Designers is increasing, as companies have acknowledged the benefits they bring.
That said, finding seasoned professionals in the talent pool is getting more complicated day by day. We have a lot of talent inside Veriff who are interested in Product Development; however, the challenge is how to support their entry to the Product space. Usually Product Managers emerge from other roles including Business, Ops, and Engineering.
As Product team members already have a great knowledge of product and service, we can help other highly-motivated team members move forward in their career if they are seeking the opportunity for self development on the Product Management track. We want Veriff to be a top-notch workplace that really helps to boost Veriffians' personal and professional growth and development, and also grow and enable emerging talent from within. Besides, we also have the benefit of shaping those talents in line with the way that we want to run products within Veriff. 
We did not want to simply only offer an internship or a task to work on, but also to give the right context and toolset to work with. 
In addition, this has been a passion project of mine for awhile now and I really wanted to see if we could follow it through and what would be the results. The program itself lasted for 3 months. 
Who did you expect to participate in the program? Anyone from Veriff? How many applied?
Anyone from Veriff could apply and no previous Product Management experience was expected. The only precondition to apply was to really take a serious interest in product management, willingness to put in the individual work and take the time to learn in a turbulent environment. We were definitely looking for talent with the right mindset and characteristics rather than a set of skills and competencies.
We ended up with close to 20 applications from different business areas and some of them were really cool surprises.
You ended up choosing three people - Geir, Kristjan and Lilit - for the program. How did they stand out?
We had a short yet meaningful application form. The applicants were asked to describe one of their favorite products that they use regularly and why they like it. Also, we asked what would be the first items they'd work on and their reasons, if they were a Product Manager at Veriff. We were looking for candidates that can identify and understand the difference between solving problems and building features or just optimizing something. 
We had solid candidates for at least for a few Product Academy rounds, however we ended up selecting three candidates; they really stuck out to our Product Managers reviewing the applications because of their communication skills and a really good case made for what they would work on. 
What was the program like - how much of the program was theoretical and how much was practical hands-on work?
The learning experience lasted for about 10 weeks and had three parts. First, the theoretical part with a lot of individual reading of the materials around the fundamentals, followed by respective sessions run by senior Product Managers covering how we apply those methodologies in Veriff and sharing their experiences of it. We covered a good range of topics such as agile, research, design, product strategy, mindset, responsible product management, solution discovery, working with an engineering team, and more. 
The practical part consisted of a shadowing experience with a current PM as a mentor who would talk the Academy participants through the everyday business - team meetings, product all-hands, groomings, etc to a hands-on task that they would have to deliver as a "final thesis". 
What's happening with the three first program graduates? Are they taking up a new role in the company?
Well, entering the Academy, the applicants were aware that it is not a guarantee for a new position in the product division, however we did recently introduce a new Associate Product Manager role that is a great entry point for the graduates. Some of them have already taken up new roles. One purpose was to develop personal and professional skills, the other one was to train the product mindset in our employees and grow our talent pipeline internally. 
The follow-up program for them will be the real thing, also known as the Associate Product Manager role. Should the company need to fit such positions in the future, the candidates are in a very good starting position. 
Are you going to have another group going through the program?
The pilot seems to have been a great success and received overwhelmingly positive feedback from the participants. We will do some adjustments and try to make it a regular thing. Personally, before starting another product manager course, I'd like to explore expansion options also to Research and Design tracks. 
Now to hear some thoughts from the participants themselves - Geir, Kristjan, and Lilit.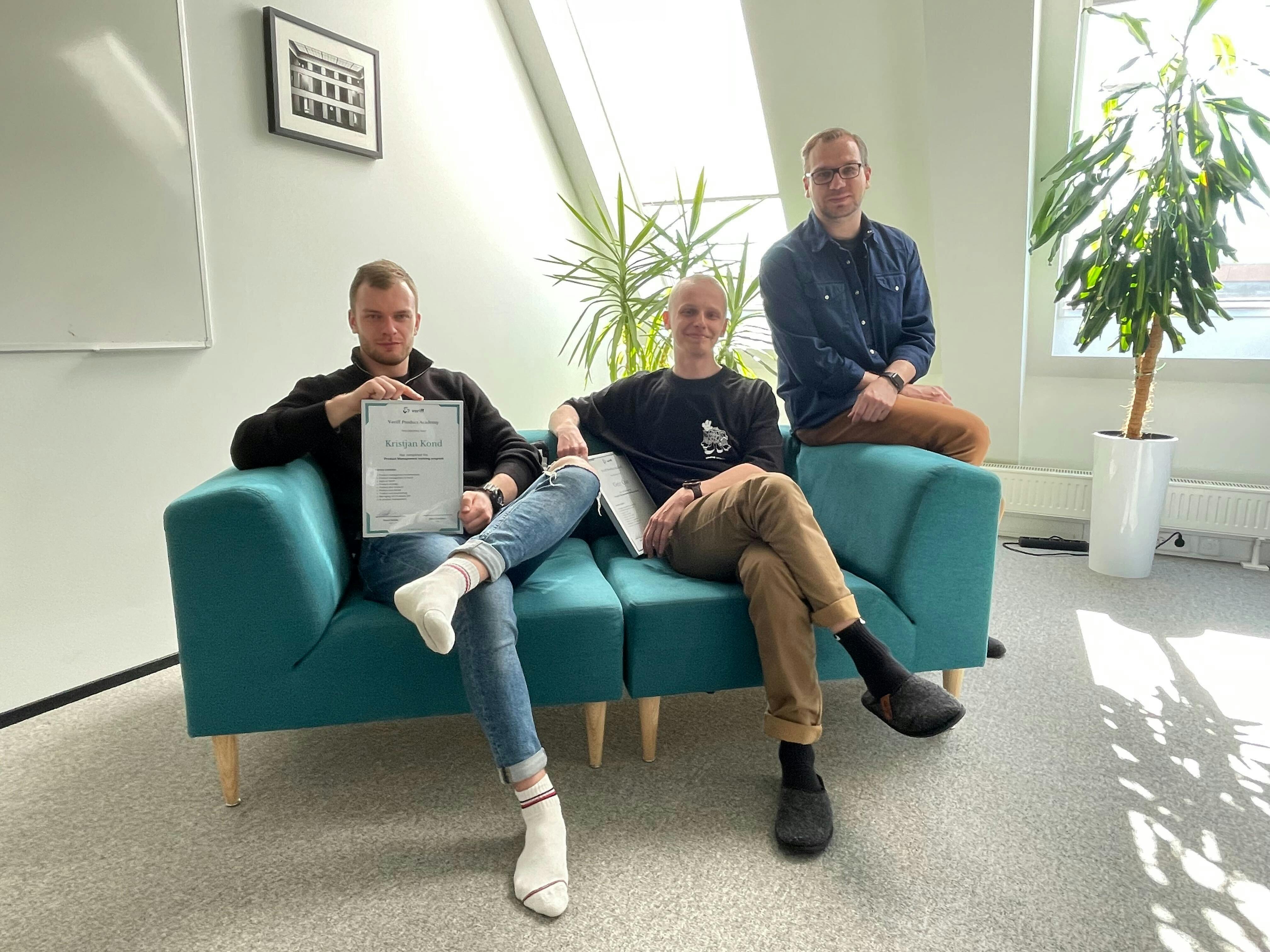 Form left: Kristjan Kond, Geri Oss, Kalev Rundu
Why did you apply to be part of the program? 
Lilit - In my hiring interview, Janer asked me: "What is your "hidden agenda" when applying to Veriff?", and I already knew that I would like to grow into a product role. What inspired me was the idea of creation - building something that hasn't existed before and solving real problems with what you have built. 
I talked to different product managers at Veriff and one thing was clear to me that there is no certain path on how  to grow into a product role, everyone had a unique story. So, once the Product Academy was announced, I knew this was my chance to tip my toes into the product world.
Geir - I'm really curious to learn more about how great products get built. While working closely with our product managers in Veriff, I started to wonder whether being a PM was something I would like to do. When I saw Kalev's post I saw this was a once in a lifetime chance to get knowledge straight from the best source.
Kristjan - To a great extent, I love solving problems at scale and product management is the pinnacle of doing that. Additionally,  I've had a positive gut feeling about product management for a rather long time, ever since I joined sales in fact. Naturally, as the opportunity came up, it didn't make any sense for me not to give it a shot, so here I am.
Your biggest learnings? Emotions? Why? 
Lilit - Two things come to mind. First, it takes a certain type of personality and mindset to be a good product manager, skills are the bare minimum, but without the right mindset, you can't be successful. Second, Product users mostly think in the frames of existing solutions - so some great ideas might sound great in the existing situation, but do not fit into the strategy and direction of the product.. 
Learning the theory was exciting, but getting to try product manager tasks in practice was a real rollercoaster. With the final project, it was very challenging in the beginning, but once the pieces fell into place the feeling of accomplishment was overwhelming.
Geir - I really saw the importance of defining a problem and letting that lead you to build products. It may sound straightforward but a problem can be defined on so many levels using different words, understood by different people in different ways. I'm really glad I got to see how the whole process should work to create great products. 
From an emotional standpoint, it was fascinating to see how human the whole process is and how we depend on each other to make these products happen in this very intricate web, from initial client interviews, to design and engineering and all the way to marketing and selling what you just built. 
Kristjan - Probably the biggest finding is a deep understanding of why product managers say "no" to most of the requests they get. The program really made me appreciate what goes into building a product and it has made me appreciate the good products out there, which actually solve a problem. Likewise, seeing a bad product or solution makes me think about what could've been done differently in the development process.
The support from all mentors, Kalev, and the teams I've been shadowing has been amazing and I have nothing but positive emotions to share.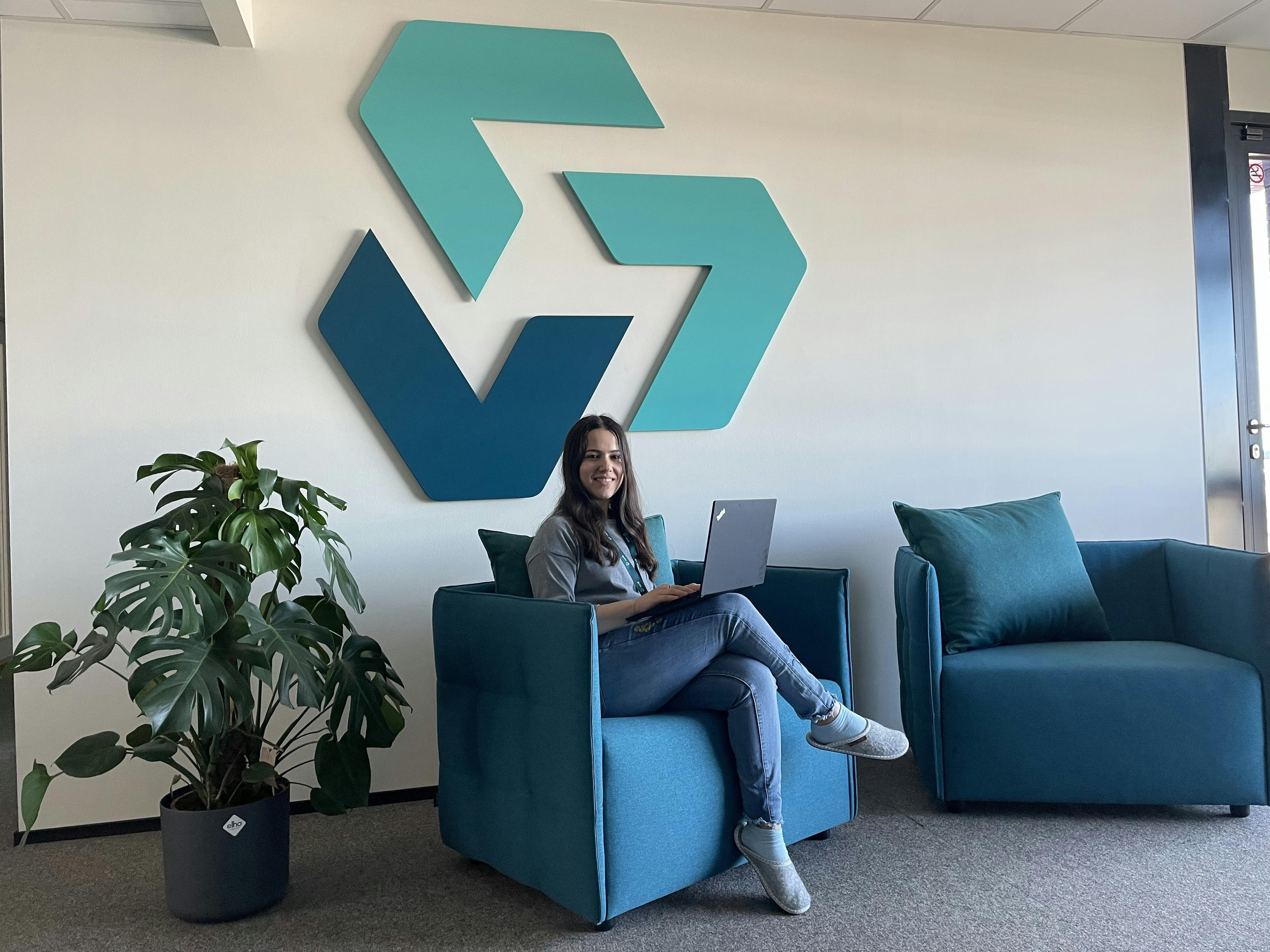 Lilit Stepanyan
Now having graduated from the program, what does it mean for your career in Veriff? Will you be taking up a new role? 
Lilit - This depends on so many different factors, but what has already changed for me is incorporating learnings in my daily job and better understanding on how to cooperate and support our product teams.
Geir - I think first and foremost it made me a better product data analyst. Now I understand far better what it takes to build products, or how to build new features to existing products. Having this viewpoint, I can better speak the language of the product with my team in any part of the product life cycle. In the future, though, I could definitely see myself as a Product Manager, for now, I'm happy to keep working closely with some already great ones.
Kristjan - Time will tell.
Would you recommend the program to your colleagues? Why?
Lilit - Yes. This was an amazing experience - and I am really grateful to Kalev and all the product managers and presenters for investing their time into the Product academy. Special thanks to Maksim for guiding me through the jungle of product management. I would recommend this also because it helped me build a strong foundation for understanding product management based on which I can continue learning on my own.
Geir - A strong and unquestionable yes. You would not get this type of knowledge anywhere else. From the presentations and discussions to the practical part where you get to trial and put your learnings to the test, I feel very lucky to have been given this chance.
Kristjan - Absolutely, I would recommend this to everyone! The program did not just touch upon how to be a product manager, but also gave a holistic view of the entire organization. This includes the process of design, research, engineering, etc., which set a very nice foundation for any role I should wish to pursue within Veriff (or outside it).