How have your first weeks at Veriff been?
My first four weeks in Veriff have been unique, eye-opening, exhausting, but amazing! First, two weeks passed like a blink of an eye since I did two onboarding sessions – company and new team leadership training. 
I had forgotten what intensive learning is and how exhausting it is, but I am so glad that I had the opportunity to remind myself of that. I know now what all my first-year students and new teachers feel when they start in our school. Of course, it also gave me many ideas on how to make it easier and more efficient and structure information more precisely, step by step, just like you do in Veriff. There will likely be a new onboarding program for new students and teachers in our school next fall. 
I have had many inspiring 1:1 conversations. People in Veriff are warm and welcoming, brilliant, and the best in their fields. That is probably my favorite part so far.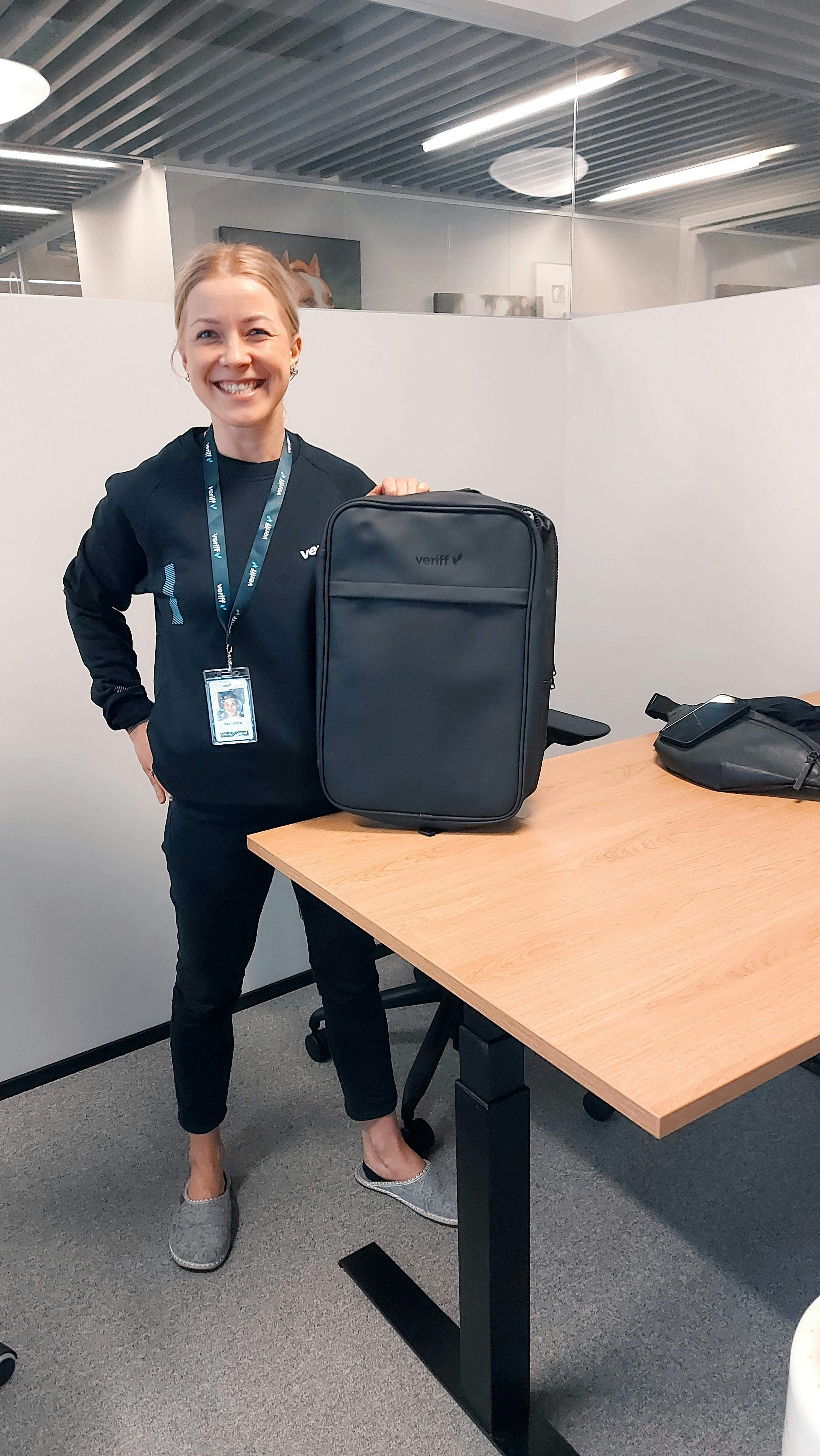 Photo: Mari's first day interning at Veriff
Why did you decide to join the internship program?
Many headteachers whom I admire have taken part in the program. I have seen the sparkle in their eyes, and it seemed like the only way to get myself to accomplish some of the more complex and fundamental route changes I dreamt of creating in my school. And as I said before, I am eager to learn, so I decided in spring 2022 to apply when the new opportunity comes next!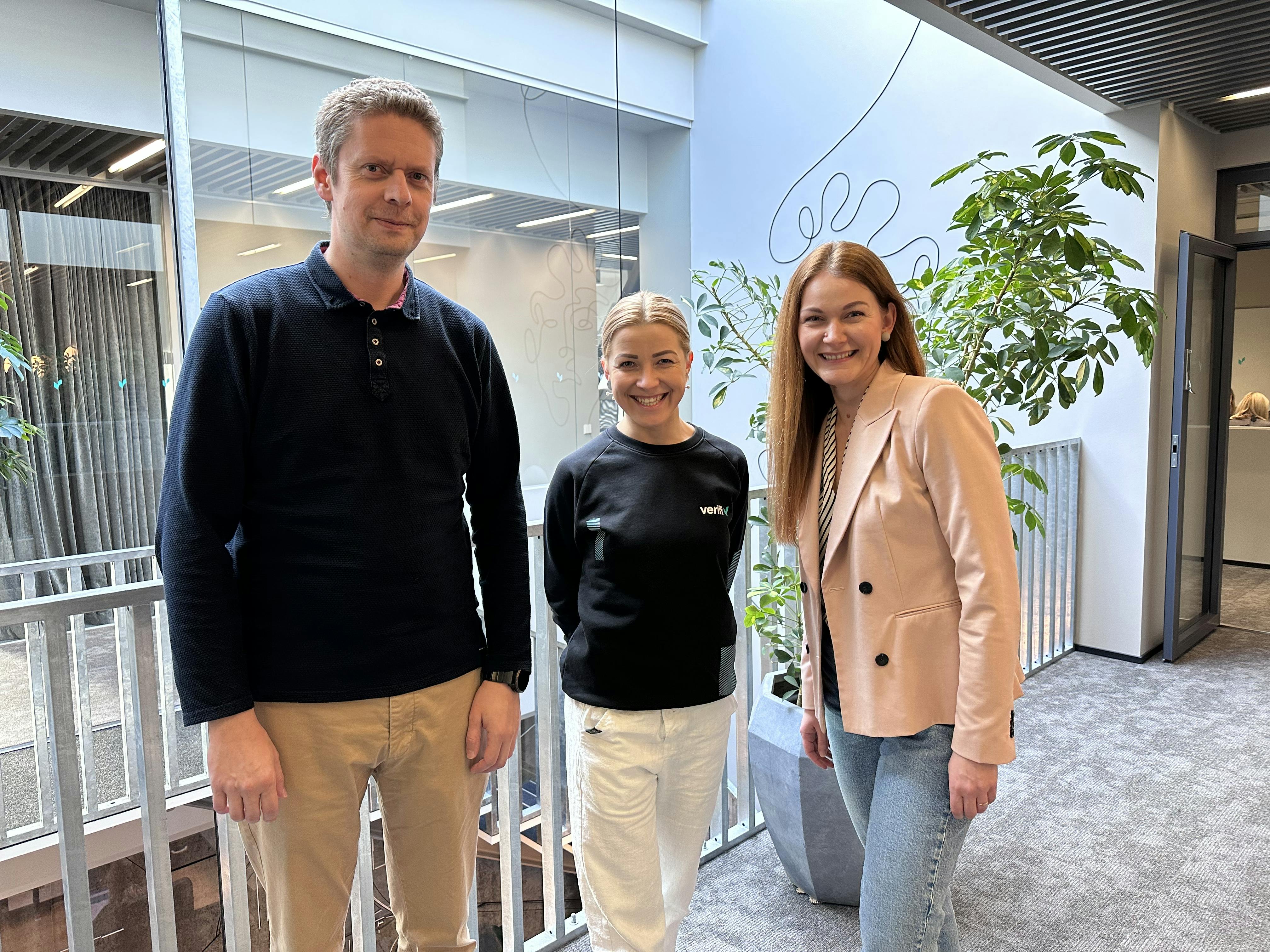 Photo: Indrek Heinloo (COO, Mari's mentor), Mari Roostik (headteacher at Tartu Jaan Poska Gymnasium), Pilleriin Pillav (People Partner, Internship Coordinator)
Any goals you set yourself for the program?
One of my goals is to learn about data, what to and when to collect, when our why is set, what are the different tools to do it quickly and efficiently, in which areas it is the foundation of decision making, how to monitor and analyze it etc. Of course we are already doing it and have been doing it, but I know that there are more ways to use data to observe, if we really are moving in the right direction with our strategic plans and OKRs (to know and learn more about them is also an important goal for me)  for this and upcoming years. 
What are some of your personal interests or hobbies outside of your professional life that you would like to share?
I love to read a lot, discover new music, walk a lot, and occasionally go to the theater, concerts, and exhibitions and enjoy spending time and just talking with my friends and family. I work out almost every day, wake up too early for most of the population, and write a lot. 
And a fun fact about myself is that I have a plan for everything, not only for work but for everything in my personal life as well.
The Educational Leaders' Internship Program was initiated by the Good Deed Education Fund and Tallinn Education Department in collaboration with the talent agency Fontes. This year, fifteen school leaders from across Estonia have become interns at Estonian companies with top-level managers as their mentors. The 10-month program aims to develop the quality of school management and give the school leaders insights into the organisation's daily and operational model with a modern management culture. For the first three months the school leaders will work full-time in the companies and then return to their schools to take the knowledge and ideas into practice with the help of their mentors.