Despite growing at break-neck speed, Veriff is still only a small part of a greater whole when it comes to our role in protecting the planet. For mankind to make an impact on our environmental footprint we need to collaborate, and that is what the the Tech Green Pledge is all about.
This week, Veriff signed the Tech Green Pledge along with 33 big names in the Estonian tech scene, promising to be carbon neutral by 2030. The pledge was signed at Tallinn Digital Summit this week, and the agreement handed over to Estonia's President, Kersti Kaljulaid, who will be participating at next week's UN Climate Summit in New York.
"I am pleased that the private sector has taken the lead on this issue. Each year, Estonia brings a major idea to the world stage, this year it's the Tech Green Pledge [...] In Estonia, we have seen how technology can bring great changes to society. With the Climate Pledge, technology companies hope to help humanity achieve a transition to a climate-neutral and green economy as soon as possible."
- Kersti Kaljulaid, President of Estonia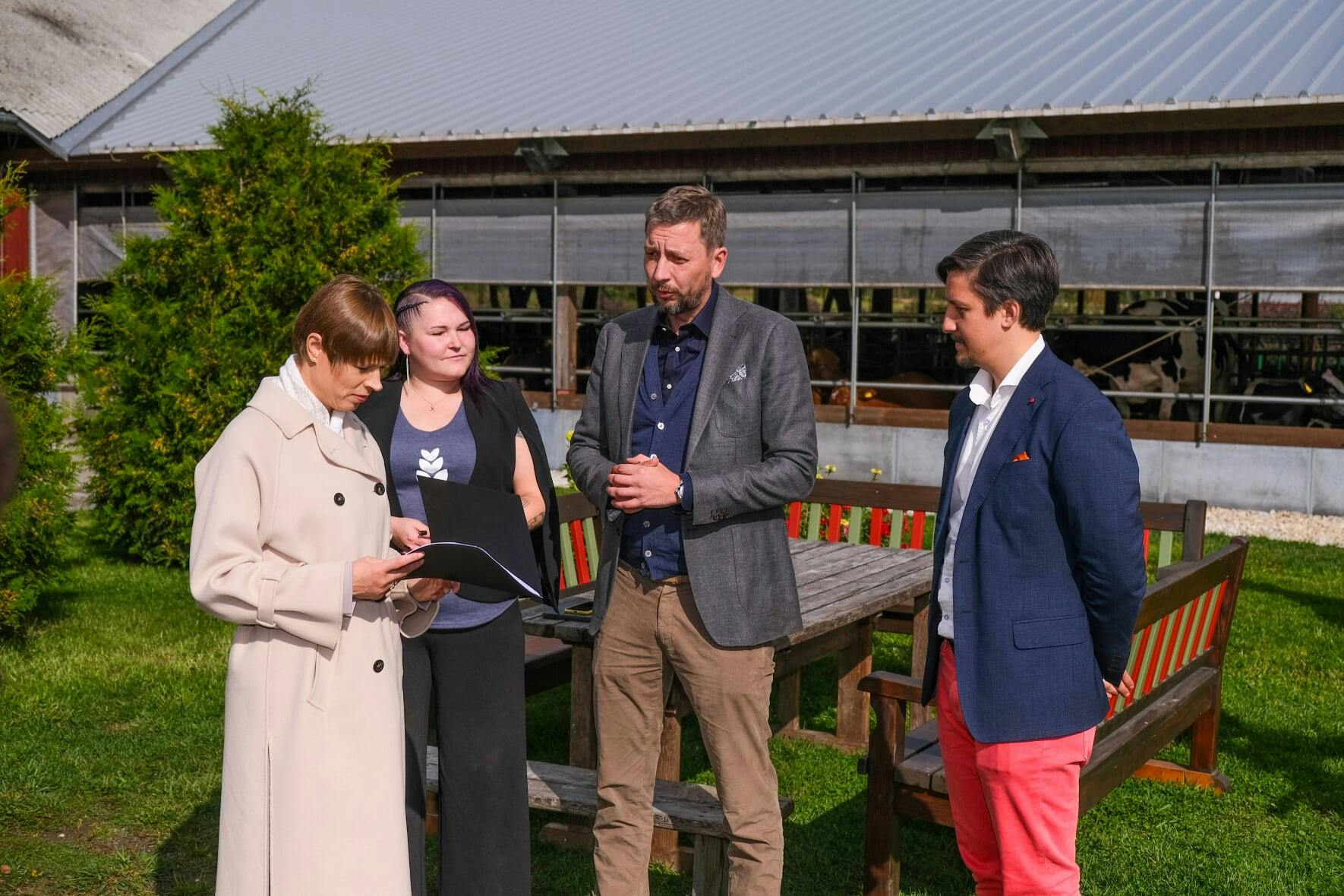 (President Kersti Kaljulaid, Martin Ruubel, Luukas Ilves from Guardtime, and Ella Käi-Edo from e-Agronom)
With the Tech Green Pledge, some of Estonia's biggest employers and highest grossing corporations are pooling their resources to combat the mounting climate crisis.  By participating in this initiative, we get to go one step beyond our mission to connect companies with honest people. 
Veriff was built to replace brick-and-mortar verification services that result in unnecessary commuting and energy consumption. Through the Tech Green Pledge, Veriff will broaden its approach to reducing the human environmental footprint, and hopefully inspire other companies to take action. 
Being a force for the greater good 
With thousands of people employed in Tallinn alone, the global information and communications technology (ICT) sector is booming. Beyond the byproducts of having so many human resources in the form of trash and snack consumption, these companies also have an impact in the form of energy use, CO2 emissions, and waste products. 
And while companies in ICT have a huge environmental footprint, they also have the skills and know-how to reverse it. According to the United Nations, digital technologies have the potential to enable a 20% reduction of global CO2 emissions by 2030. 
Climate action happens one of the UN's Sustainable Development Goals, and the Tech Green Pledge is how Estonia's booming ICT sector can play an active role in hitting these ambitious targets in time. By the end of 2019, members of the Tech Green Pledge will launch an action plan for achieving company-wide carbon neutrality by 2030, including: 
Specific targets for achieving company-wide carbon neutrality by 2030
Ways we can make our business processes, office spaces, and day-to-day activities greener
Methods for tracking our environmental impact 
How to set a positive example by conducting our activities in an environmentally responsible manner and sharing our knowledge with others in the pledge and beyond
Together with the other members of the Tech Green Pledge, Veriff will also track, measure, and share our performance every year. This year is the first of many to come, and we are excited to identify more ways to be carbon-neutral beyond ditching plastic shopping bags and switching to biodegradable trash bags like we did this summer.
Do you want to participate? The Tech Green Pledge is open to more members, both local and international. The number of participants has already grown to over 50 and counting. Learn more about how to join here.
Interested in a career with Veriff? Learn about our people and the application process here.