Krister Kasemaa is a 22-year old Estonian student at the University of Manchester, studying Aerospace Engineering. He just finished his internship at Veriff, which started from Product and finished in the Verification Automation team. During his internship, he worked on lots of amazing projects and helped the team reach a few milestones.
We took some time to discuss his interests, international life in Manchester, his internship at Veriff, and his hobbies. Enjoy!
Let's start with your professional life - how did you choose this career path?
I knew that I enjoyed Maths and Physics a lot from an early age in school. That's why going for an engineering discipline at university seemed like a no-brainer to me. I wanted to challenge myself, so I decided to pick the hardest-seeming engineering course from the available list. The one I settled on was Aerospace Engineering. 
I wanted to put myself in a different environment and gain a new perspective. This was the main reason why I decided to go abroad for my university studies. I looked up various universities and programmes available, and the University of Manchester was my ultimate choice.
Tell us about your international student life in Manchester
What I really like about being an international student in Manchester is that it acts as a 'reset' for me - it is a great opportunity to realign my priorities in life and adjust to the new rhythm in the UK. Whenever I leave Estonia, all my activities are paused and restarted only once I'm back here.
Life as an international student is very interesting and challenging.
Usually, I try to get up early and exercise in the morning. After that, I'm on my way to the university and spend most of my time in the library - having some quiet focus time in the morning is very important for me. After that, I go to the other buildings on campus to attend lectures. In the evenings, I like to spend time with friends or make my way to on-campus piano rehearsal rooms. 
Other than that, there are a huge variety of student clubs where I can take part. For example, there is a Flight Simulator Society, where we learned about the design choices which lead to a specific place design, or Mancunian Investment Fund, where we gathered weekly to manage a paper-trading portfolio.
How did you find your way to Veriff?
Back when I was searching for different internship opportunities to build my career, I looked through my network and got in touch with the person I met through the scholarship program I was participating in previously. He was one of the supporters of this program, and I met him through one of the networking events before starting university. 
He helped me to get in touch with Veriff's Product team to talk about possible internship opportunities. We had a brief and high-energy chat, and, as a result, I came on board as a Product Intern in the Verification Engine team.
How was your everyday life as an intern?
I would say working at Veriff is a lot of fun - it's full of challenges, and no two days are the same. There were lots of meetings, training sessions, and team events. All of these experiences were great opportunities for me to learn and develop myself as a professional. I always enjoyed going to the office and meeting interesting people there - there is a high energy, and everybody is happy to share their experiences.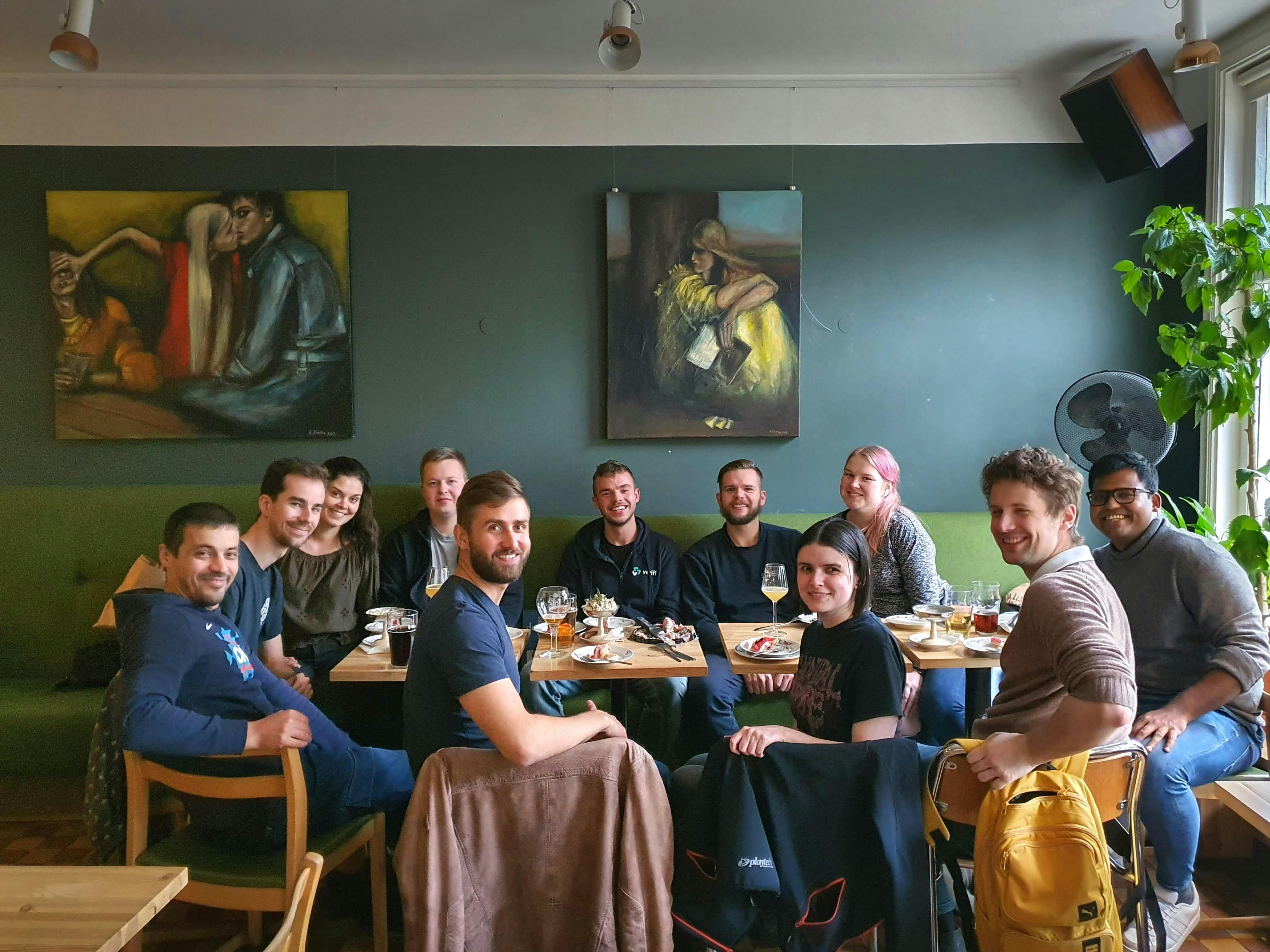 Krister saying a fond farewell to some of his Veriff colleagues
I learned a lot of new things and worked on many interesting projects during my time at Veriff. I quickly understood that in order to better contribute to the team, developing a more profound engineering knowledge and hands-on understanding of data science and software development would be useful. This is why I transitioned from Product to the Verification Automation Team.  
Which of Veriff's values resonate with you the most?
I would say "Ideas are free, execution is priceless". 
Coming up with ideas might be easy, but if you want to deliver results personally and professionally, you have to realise that it comes with a lot of hard work and daily discipline. You should have a relentless push to get things done. This value is something that really resonates with me. 
Thanks for the answers! Let's move on to some quick-fire questions now. 
Any hobbies?
In my free time, I like to do different sports activities such as running or orienteering. Also, I enjoy photography and playing the piano. 
What's a 'must-read' book?
I would say it's "Antifragile: Things That Gain from Disorder" by Nassim Nicholas Taleb. It's a very interesting book, which helped me change the way I look at opportunities in life. 
Your favourite podcast?
I like to listen to podcasts that make me feel like I'm part of interesting conversations and learn a lot. So, I enjoy listening to the Joe Rogan Experience podcast. Also, I recently started listening to the episodes from the Lex Fridman Podcast.
Mac or PC?
I have never owned a Mac product in my life, I still use PC and Android, but I have encountered so many issues while doing work-related tasks that I'll definitely switch to a Mac soon.
If you weren't an engineer, what would you be?
I would either be a professional cycler or a Physics professor. I've done a lot of tutoring during the first two years of my university life, and I enjoyed it a lot! Spending time to share my knowledge with others really helps me to understand more about this specific topic.
What would be your advice to someone who wants to kick start their career in the Engineering field?
Engineering, as well as business, is all about solving problems. You don't need a fancy degree to achieve goals. It's all about asking the right questions and having the courage to try to make things work as you envision them.
If you're interested in following in Krister's footsteps and joining Veriff either as in intern or permanently, head to our careers page to check out our current opportunities!