Back in 2018, we excitedly shared the news of the Vienna-based software company for mobility, goUrban, signing up as a partner of Veriff. And two years on, the partnership is still going strong, with both companies continuing to expand in our respective industries.
First, a bit of background: goUrban is a company which provides a software platform and data analytics to car, moped, ebike, and scooter sharing operators. These run their services worldwide with thousands of users riding daily. For many of these, a first prerequisite to rent a vehicle is driving license verification.
And Veriff has been able to use this data to learn and observe negative trends within mobility, and how we can help to combat them.

We recently shared examples of the fraud that the mobility industry at large has to combat, and you can see this graph below: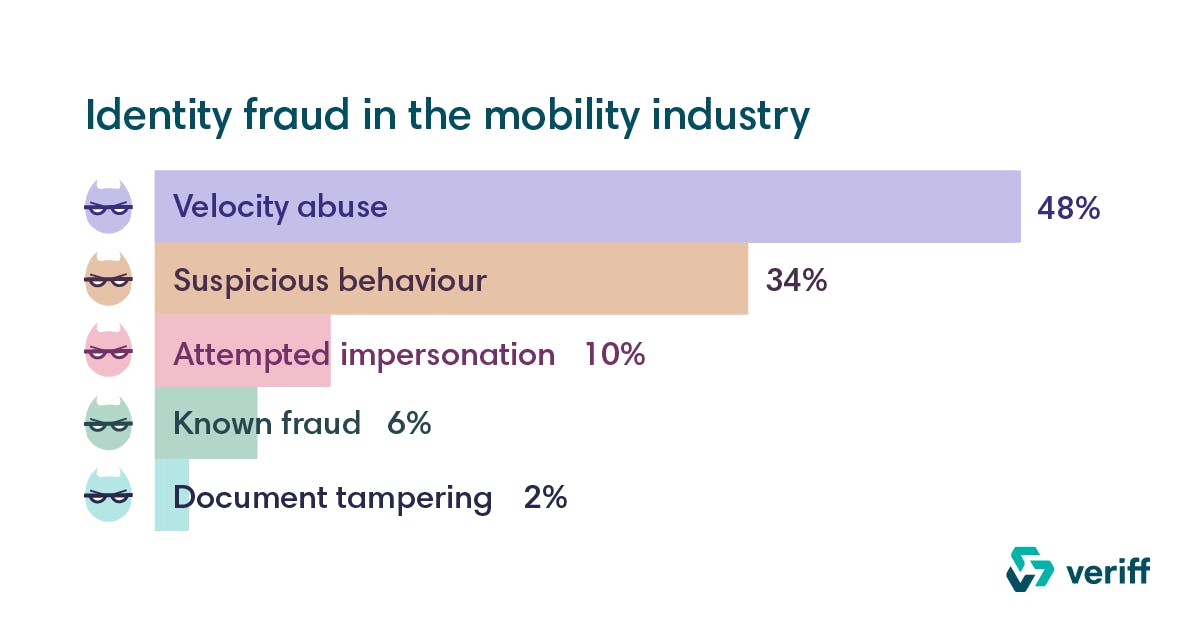 Both velocity abuse and suspicious behaviour can throw a spanner in the works of a smooth verification - slowing things down and creating unnecessary work for customer support staff. Luckily, Veriff prides itself on tackling both with the minimum of fuss, leading to a smoother experience for honest users and a lesser workload for our clients' CS teams.
You shouldn't take it from us though, here's what goUrban said about their first two years with Veriff:
"Two years after the first case study, goUrban has used Veriff extensively. Precisely, goUrban has a wide array of customers which are car sharing and moped sharing operators - users of which need their driving license verified. Said users have a very broad geographical origin (e.g. tourists arriving at the operator's location), and appreciate a seamless/almost real time registration & experience. We are very satisfied with the service."
And what about the specific positives in the experience?
"Veriff has played an active role in enabling the business, also thanks to the real time component."
Our high level of automation, and consistent drive to improve the speed and accuracy of verifications, linked to our dashboard Veriff Station provides our partners with consistent verification data. This means they're able to track verifications as they happen, and keep a close eye on declined verifications and the reasons for them.
"Veriff's API enables goUrban to integrate verification information directly in our solutions for our operators to see, making sure that operators don't need to shift between platforms"
Nobody likes spending unnecessary time switching windows in the middle of a task. This is why Veriff's verification integrates seamlessly within our partners' existing sign-up flow, and also why all necessary verification information is accessible from one place - Veriff Station.
"Extensive settings that goUrban has configured Veriff to our specific needs"
We pride ourselves on being client-focused, and our configurability is a key element of that. Using extensive client input and feedback we ensure that the verification process works for them, maintaining speed, accuracy and compliance.
"Veriff has provided a team of experts (legal, UX) that make sure that goUrban is compliant, but also improve the conversion rate of goUrban's operators"
We've championed this extensively - customers of Veriff have seen an improvement in their conversion when using our verification flow with Assisted Image Capture (AIC) enabled. AIC helps to ensure there are fewer resubmissions, and walks users through the verification process to help them capture perfect images on the first try.
"Driving license verification thanks to Veriff brought goUrban little-to-no support workload." 
Driving licenses are the second most-used ID in Europe when it comes to verification, but for goUrban they are front and centre. With our extensive document coverage (over 8,000 documents at the time of writing), we're ready to verify the majority of driving licenses from around the world, and certainly all of those we encounter from goUrban users.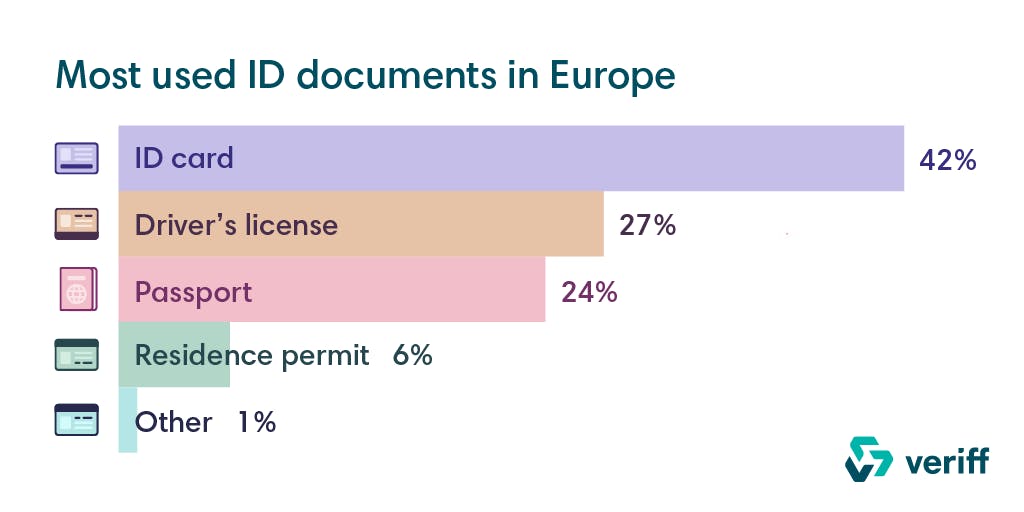 "The system has often handled thousands of verifications per day and dealt well with very rapid variations in volumes"
A high level of automation allied with a specialist team allows Veriff to manage fluctuating verification volumes while maintaining high response times and continual accuracy. As a growing company in a rapidly evolving industry we are always prepared for sudden peaks in workload. 
"Veriff is seen as a key partner now in COVID times, as the mobility sector is shifting towards vehicles which are use-case flexible: mopeds and cars (which require driving license verification) are attractive as they can both suit the B2C sharing or the delivery purpose."
goUrban's impressive adaptability as a business has allowed them to maintain consistent growth despite the global pandemic, with the vehicles of their operators put to different uses in a period when large numbers of the population are unable to leave home. This has also inspired new requirements for identity verification, as people work remotely with sensitive data, and knowing who's accessing what becomes more and more critical.
To learn more about mobility identity verification click here.