Seven years ago, I founded Veriff and was later joined by our co-founder, Janer Gorohhov, to help businesses of all sizes verify their customer's identity online and fight fraud. Since then, a lot has changed in the identity verification market. As fraud rates have grown and bad actors have become more sophisticated, so have we. Veriff has matured - we've grown to over 550 people globally with offices in the US, UK, Spain and Estonia to provide measures to build trust with customers to industry leading global companies across industries. And we've raised $200M in funding to support our global growth and invest in R&D, especially to advance product expansion. We have been "playing in the big leagues" for some time now, working with large, global clients and well-known brands. And the bar continues to get higher.
If you've visited the Veriff website recently, you may have noticed a new look and feel. We're thrilled to unveil our new brand identity across our channels. As we enter this next phase of growth for Veriff, we want our brand to reflect the differentiated and elevated experience we aim to provide our customers. We've strived to make our vision clearer for both existing and potential new customers, and our messaging and visual brand more consistent and mature. 
So, what's different?
We've refined our logo, colors, illustration system, new patterns and tone of voice.
A new and improved logo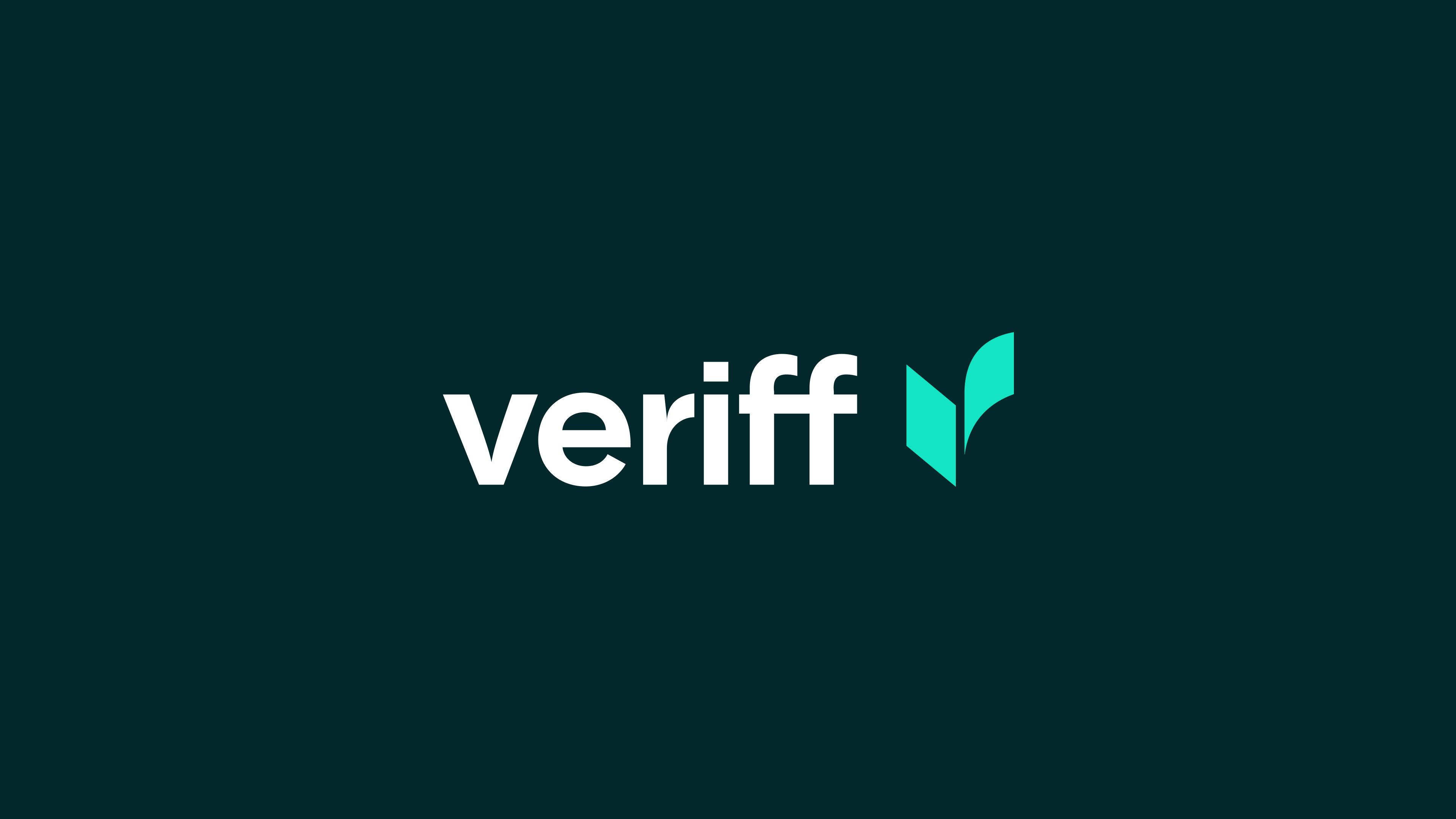 Veriff makes it possible to be trusted anywhere in the world, and this is our belief of how security and identity should work. Together, many small elements make up a larger whole, with our values being the glue that holds it all together. The new Veriff's symbol is now placed after Veriff's name to indicate that a person has been verified by Veriff. 
Meet our new primary color - Dark Teal
Dark Teal is Veriff's main brand color, used instead of black and in combination with the rest of the primary palette. It is connected to our values and forms the basis of the identity system. Veriff's primary palette is an evolution of the previous one, referencing the brand's concept as observed over identity documents. Softer light teal tints reference the normal state of such documents, while accent saturated tints reference the colors that appear over security details used on the documents.
Illustrations and exciting patterns
The concept behind the design elements is about the safety features that are in passports and different IDs. If you think about tilting the passport or ID you start to see those holographic patterns and bright interesting colors. We included those elements into our new brand identity. Patterns are an integral part of the Veriff brand, representing security and accuracy by referencing the guilloche patterns usually observed in identity documents.
Despite these visual changes, our core remains the same. Our mission is still to rebuild online trust in the digital age. We will continue to enable businesses to build trust with their customers - the ultimate goal in today's landscape. And we still believe strongly that your identity is who you are, and it's your most valuable asset. As a result, everyone deserves real safety, real protection and real transparency online. 
We couldn't be more excited to be kicking off this next phase of our branding. Thank you all for being a part of this journey and stay tuned for more exciting updates!
To learn more about Veriff and its brand enhancement, please visit our website and make sure to follow us on LinkedIn, Twitter, FB, Instagram.
Kaarel Kotkas
Founder and Chief Executive Officer