It's almost 30 years since the first dating app – Match.com – was launched. Since then, millions of people around the world have used dating apps to find love, form meaningful connections, and build families. 
But while most people have had a positive experience using dating apps, a small minority have been left financially disadvantaged. Under the cloak of online anonymity, criminals are using data apps to befriend people, win their confidence, and scam them out of their hard-earned money. 
And, worryingly, romance scams are on the rise. According to the US Federal Trade Commission, Americans lost $1.3bn to romance scams last year, a 164% increase from 2019. 
Dating scams often leave victims emotionally and financially devastated. To tackle this issue, Match Group – the parent company for Tinder, Hinge, and a range of other dating apps – launched an awareness campaign to help combat dating fraud in January 2003. Suggestions included avoiding unverified users, staying on an app for as long as possible without giving out personal details, and ignoring people offering get-rich-quick schemes. 
But while these tactics may be a good starting point, dating fraud continues to evolve and catch people out. And, as we will see in this white paper, there's a great deal companies can do to protect their users from this threat in the first place. 
What are online dating scams?
An online dating scam occurs when a person makes a connection with someone through a dating website or app, but the individual they are communicating with is a scammer using a fake profile. Over time, the scammer builds trust with the victim and either requests money or acquires enough information about them to steal their identity. 
Often scammers will target older people because they are more likely to have assets like homes or pensions. Women are also disproportionately targeted.
How do online dating scams work?
Regardless of who's targeted, dating scams follow a similar pattern. The scammer creates a fake profile by stealing images from a real person's social media or dating profile. After they've matched with somebody, the scammer will attempt to develop the relationship by declaring their love. This will often be accompanied by requests to take the conversation off the app and onto other platforms like WhatsApp or Telegram.
Once the scammer has managed to win their victim's trust, they'll make requests for personal information or money. They may also claim that they're in trouble with the authorities or need help paying their children's medical bills. 
Throughout the course of the 'relationship', scammers typically evade meetings in person and refrain from engaging in voice or video chats. Although they may hand out a mobile or phone number, they will tend not to answer when called, and will only get in touch when it suits them. 
And once the scammer has accomplished their goals, they will invariably disappear, leaving the victim emotionally bruised, embarrassed, and financially inconvenienced. 
Consequences of romance and online dating scams for your business
All kinds of fraud cause reputational damage and dating site fraud is no different. Often a hidden danger to the good standing of a business, reputational risk can explode out of nowhere. Often the damage cannot be easily quantified, but there have been instances where fraud has wiped millions of dollars off a company's valuation and forced a change in top management.  
Until recently, there was little widespread awareness of dating fraud. That all changed last year when Netflix aired its documentary series 'The Tinder Swindler'. The program was about an Israeli con man – Simon Leviev – who swindled large sums of money from several women using the popular online dating app Tinder. Released in February 2022, the series was an instant sensation and became Netflix's most-watched documentary ever. 
Brands in the dating industry can no longer afford to ignore these scams. Fortunately, there are many things that companies can do to protect themselves and their users from dating fraud.
Types of online dating scams?
Dating site fraud can take many different forms. Some of the most common dating scams involve creating fake dating sites populated with scammers, photo scams where personal data is requested for sensitive images, and intimate activity scams where a criminal will persuade a victim to undress and then threaten to release the recording. So, let us look at some of the main scams and what they involve. 
Catfishing (i.e., fake online dating profiles)
Many online scams start with catfishing. Put simply, catfishing happens when someone takes images and personal information from a legitimate profile (usually on social media) and uses it to create a fake identity online. 
There are several ways to determine whether someone is catfishing. Typically, the 'relationship' will progress quickly, but the catfisher will never want to show their face and will insist that communication continues through virtual means. Their social media activity will usually be sparse, and they will have few online friends. And in many cases, the catfisher will be too good to be true – all their photos will be perfectly modelled and flawless. 
Romance scammers asking for money
Catfishing is often the prelude to financial extortion. Once they've established a romantic connection with their target, the scammer will request money or personal financial information from their target. They may ask their victim for money in the form of cash, gift cards, or cryptocurrency to "prove" their love, or claim that they need money to help with an emergency.
Identifying this sign of a romance scammer is crucial as it is exceedingly common. In 2022, 19% of people in the US lost money to a romance scam that started on a website or dating app.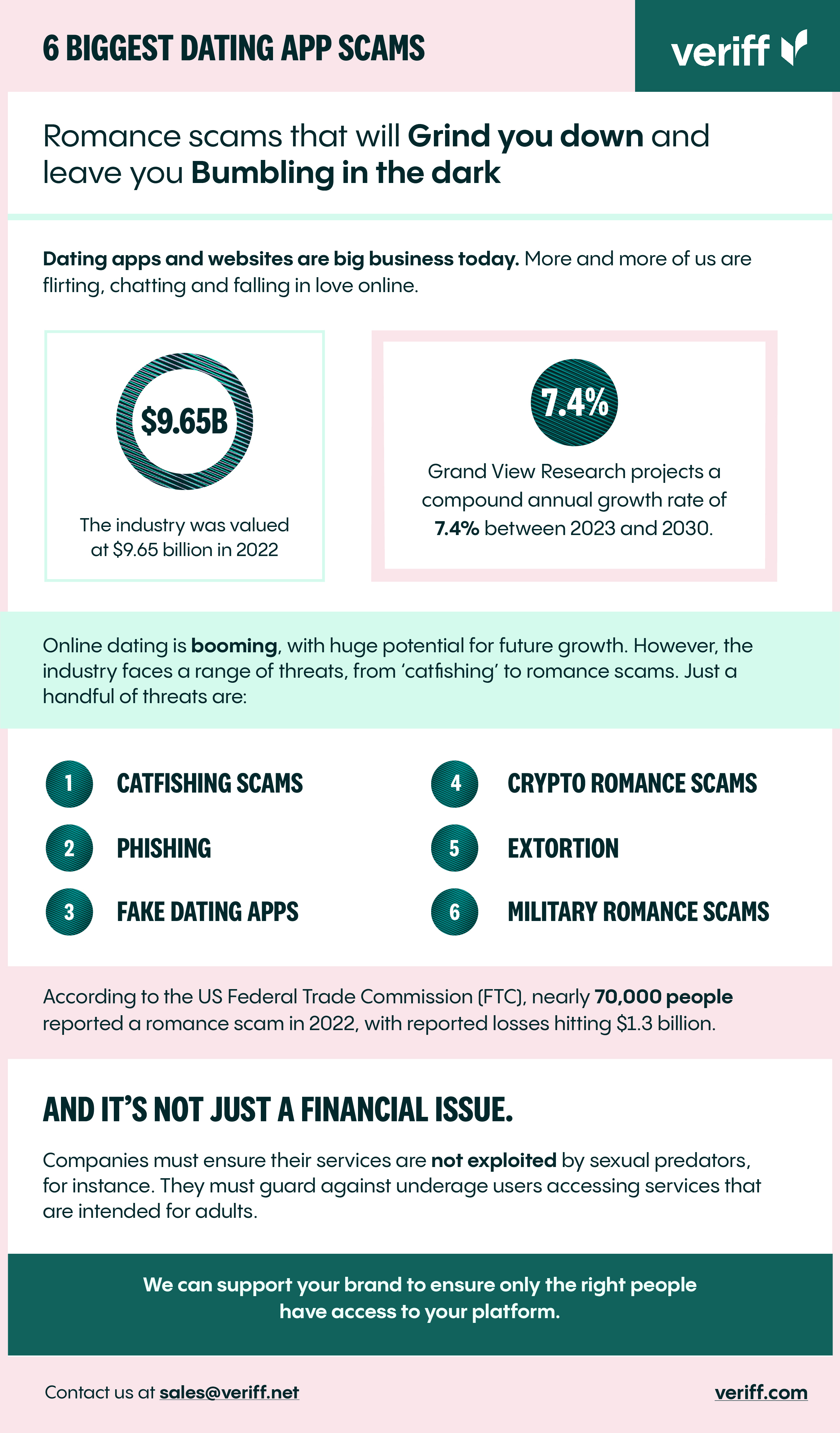 Phishing for personal information (identity theft romance scams)
Identify theft is another common form of fraud that is perpetrated on dating apps. The scammer will attempt to get the target to supply personal details such as their address, date of birth, and country of origin. They will then use this information to try and guess passwords with the intention of hacking into personal accounts. 
In some cases, the scammer will go further and ask the target to provide account details and social security numbers. Armed with this information, they will empty the victim's bank account or take out loans and credit cards in the person's name. 
Depending upon the nature of the attack, the effects of identity theft can last for months or even years, causing immense psychological harm and emotional distress as well as financial hardship. 
Fake online dating and "hookup" sites
Setting up fake online dating sites is another way scammers steal money and personal information. People typically come across these sites through online ads or search engine results. At first glance, the sites may appear legitimate – they will have over 18 disclaimers, customer service representatives, and thousands of members. In fact, everything on the website is totally fake. 
To join, users must pay a fee and supply personal information which can then be exploited for identity theft. Sometimes the sites come loaded with malware which can infect devices and scoop up sensitive personal information. The malware can even be used to shut users out of their devices unless they pay a ransom. 
Online dating cryptocurrency investment scams 
Crypto romance scams follow a similar format to other online dating scams. The scammers will use popular dating apps to love-bomb their targets and make them feel special. Once the target has been hooked, the scammer will start to talk about their interest in cryptocurrency and will offer to guide the victim through the process of investing. Often the prospect of making massive returns is dangled, and the target is encouraged to download an app to trade. In fact, the app is a fake platform controlled by a gang of criminals. 
The scammer may stimulate fake trades to show how easy it is to make money. They may even encourage the victim to withdraw crypto funds to build their confidence. If this works, the scammer will encourage the victim to invest larger and larger amounts of money. Later when the victim tries to withdraw their money, they will find that the platform and account have vanished. 
Also known as pig butchering, this scam first originated in China in 2019. Since then, it has exploded in scale – according to the Federal Trade Commission (FTC) victims lost $139m to this scam in 2021, five times as much as the previous year. 
Blackmail and extortion using your sensitive photos (sextortion)
While fraudsters continue to look for new ways to scam people out of their money, they continue to use tried and tested means of blackmail. In the case of sextortion, the scammer will promise to supply intimate photos and videos in exchange for the victim's material. But after sending them photos and videos, the scammer will threaten to post the material online or send it to friends and family members unless a ransom is paid.  
Phishing and malware-infected websites
Sometimes online dating scams involve directing a victim to a malware-infected website. The scammer will match and befriend the victim before sending them an innocuous-looking link or attachment. These links or attachments will include malware that will infect the user's device and capture their personal information. The scammer can then use this data to steal money or commit identity fraud. 
Overseas doctors, developers, or military romance scams
Trust is the cornerstone of any successful scam. Fraudsters sometimes build trust with their victims by claiming to be respectable professionals. They may say that they are a doctor working overseas or a member of the military stationed in another country. Once the victim has fallen for the fraudster, they will request money for an investment or for their family back home. 
At times, scammers may assert their inability to execute wire transfers due to purported banking challenges in their current location. Once in control of the funds, the scammer will then disappear and remove their account. 
SMS two-factor authentication scam (verification code scam)
Some scams exploit weaknesses in account protection. Nowadays, many online accounts are protected through two-factor authentication (2FA). Once a person has inputted their account password, they will typically be sent a one-time authentication code via SMS, which they need to enter to complete the authentication process.  
With a verification code scam, the fraudster will claim that a code isn't working for them and will ask the target if the code can be sent to them instead so they can access their bank account. 
In fact, the scammer is trying to hack into the target's account. They may already have the password and other details and just need the code. Once they've got it, they can access the account and drain the funds. 
"Money Mule" romance scams
Not all romance fraud involves direct theft. With a money mule scam, a fraudster will attempt to get a victim to unknowingly launder money for them. Once enough trust has been established, the fraudster will send money to their contact and ask them to purchase gift cards or cryptocurrency. They may ask the person to open a bank account on their behalf. Later, the fraudster will ask the victim to withdraw the money and wire it to a separate account. 
Even if the person isn't aware that the funds that they are transferring have been illegally obtained, they can still be prosecuted for fraud and money laundering.  
Inheritance scams
The last type of scam that dating app users may encounter has a long history online. Inheritance scams have been perpetrated via email for many years but are now becoming more commonplace on dating apps.  After the fraudster has matched with their victim and gained their trust, they will claim that they have a large inheritance waiting to be claimed, but that the only way to obtain it is to pay a fee. This, of course, is a lie and once the money for the 'fee' has been paid, the scammer will disappear never to be heard of again.  
Scammers will often go to extreme lengths to prove that a fortune awaits them if the victim follows their instructions. They may provide the victim with a large volume of apparently legitimate documents to sign such as power of attorney documents. In some instances, they may even introduce the victim to a second scammer posing as a lawyer, banker, or tax agent. Whatever tactics are used, the scam always ends in the same way – with the victim losing all their money. 
How can your business identify online dating scams and fake profiles?
Dating should be fun, not a source of distress. Fortunately, there are several things you can do to protect your customers from fake accounts and online scams. Age verification technology can be used to determine whether there are any potential discrepancies in the age someone provides and their suspected age. Facial biometric authentication can be employed to verify that an ID document belongs to the person who is signing up for a dating app. And bad actors who have previously been banned from a site or app can be prevented from creating new accounts. 
How Veriff can help protect your business from online dating scams
Veriff can protect your business from dating scams in a variety of ways. Our biometric authentication technology allows you to determine whether a returning user is who they claim to be. It works through a simple four-step process. First, the user is asked to provide a selfie which is checked for authenticity in real time. The selfie is then compared to a previously verified face and identity before a decision is made. 
Verified selfies can also be used to protect your users from catfishing. Once a user has uploaded a live selfie, our solution will determine whether their uploaded images correspond to the verified selfie. This ensures that your users have confidence that the people they are interacting with are real people and that their photos are an accurate reflection of their appearance. 
In tandem with this technology, we also offer an identity verification solution, which allows companies to onboard genuine customers whilst keeping out bad actors. Covering over 11,000 government-issued IDs in 230 countries, our solution reduces friction and speeds up verification. Users are asked to provide a photo of their identity document and a selfie. The data is then sent to us, and our AI-powered identity verification technology provides a result in a matter of seconds. Besides authenticating users, this technology can also be used to ensure that only age-appropriate people have access to your services. 
But even with the best will, minors can sometimes infiltrate dating apps by creating new accounts with fake aliases. Our technology also ensures that banned and declined customers are prevented from joining your services in the future. 
FAQ 
Which dating sites are scams?
It isn't always easy to spot a fake dating website, but there are several red flags to look out for. When a user signs on to a genuine dating app, it can take some time for matches to appear. A major warning sign can be a huge influx of potential matches, likes, and messages from the start. The profiles themselves can be a giveaway. If lots of profiles are getting in touch but are incomplete or lack photos, this is a strong indication that the accounts are fake. Users should also be wary of sites where they must pay to contact profiles or exchange messages. 
How to report a romance scammer?
Being targeted by romance fraud can evoke many feelings and emotions. Some people feel ashamed and blame themselves for the fraud, which can be an obstacle to getting help. It is important to recognize that romance fraud is never the fault of the victim. Any dating fraud should be reported immediately to the police and the platform involved.