"Your ID is not valid for passing through this security checkpoint."
Those are the words some travellers will hear beginning October 1, 2021 at airports throughout the United States.  The reason: those travellers will hold state-issued IDs that do not comply with the new Real ID standards.
What is Real ID? And how would you know if your ID is compliant?
"The REAL ID Act establishes minimum security standards for license issuance and production and prohibits Federal agencies from accepting for certain purposes driver's licenses and identification cards from states not meeting the Act's minimum standards."
The above is taken from the website of the Department of Homeland Security, and says it better than we could. In short, the driver's license or ID card an American citizen carries, must comply with Real ID standards after October 1st 2021, or it can't be used for certain purposes. The most important of these being as the ID document they use to board in internal flight within the US.
You'll know if your ID is compliant if it features one the 5 distinctive star markings in top right of your card: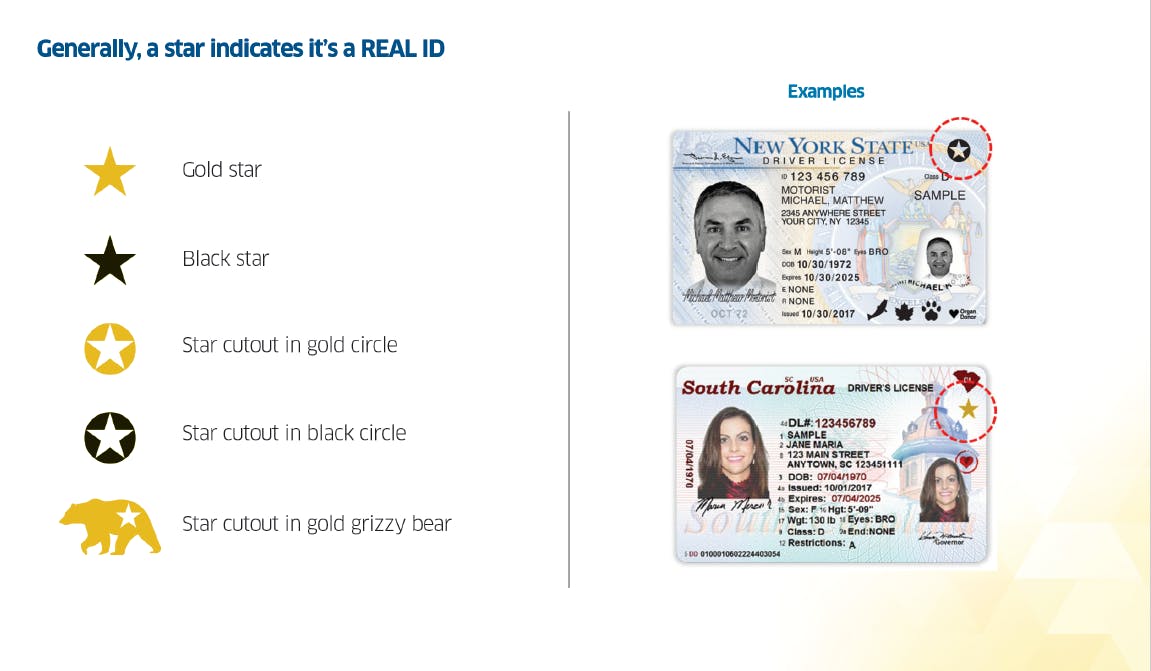 Is it time for states to look at Real ID compliance?
Lately, the discussion surrounding identity verification - IDV - has mostly focused on meeting the requirements required for the California Consumer Privacy Act. But identity verification is important in other areas. One of these is the Real ID program.
Real ID began life as a response to the 9/11 attacks in the United States. There was concern that the process for issuing IDs and the lack of certain security features on the IDs themselves might allow potential criminals to evade security checkpoints. In response, the law was enacted that imposed standards on state issued IDs in order for those IDs to be valid for US government purposes. Real ID is the result. 
Why is RealID important?  
A person using a state issued ID to enter a US government facility, enter a nuclear power plant, or - most importantly to the public - board an airplane, subject to US government regulations, must have an ID that meets Real ID standards.  That means if you use your driver's license to pass through airport security after October next year, it must comply with Real ID.
Almost all states already issue IDs that meet Real ID standards already. So the potential challenge is not the failure of states to issue compliant IDs. The problem for many is that the state ID that they have was issued prior to state compliance with Real ID standards. The challenge for states will come in the next year when millions of people realize they do not have an ID that will let them pass through a TSA checkpoint, and go to the state driver's license office for a new ID! A huge surge in applications for new driver's licenses has the potential to overwhelm these state agencies.
How could Veriff help states handle the demand?
One requirement for an ID that meets Real ID standards is that the issuing office - the driver's license office - must verify the identity of the applicant. Most, if not all, states already do this - manually and in person. This takes several minutes for each applicant, and if that person does not have the correct documentation, another visit to the driver's license office is required. All of this takes time, and as everyone knows, time is money.
Veriff offers a solution here. Applicants can verify their identities before arriving at the driver's license office or even at the office using their mobile device. Just like other companies that use Veriff, the driver's license website could send the applicant to Veriff and then the agency would have electronically documented verification. Veriff's process complies with the verification standards for RealID, and Veriff can provide required support for the state's certification that it complies with Department of Homeland Security regulations.
For states trying to plan how they will verify millions of applicants for new driver's licenses, let Veriff offer you a solution!