We love to encourage Veriffians to share fresh ideas that build the future of online safety and trust. That's why we recently organized our second hackathon to bring our teams across all our offices and locations together, give them resources, and see them innovate.
The hackathon was a massive success, and we want to tell you all about it. Overall, more than 50 Veriffians took part. On the kick-off day, we saw 8 participants pitching their ideas on the stage and 7 of them managed to form a team and start working on execution.
The crowd was diverse in terms of skill-set – we had people from Engineering, Verification, Revenue, Marketing, Design and other departments working on various projects.
The event was full of fun, engaging, interesting, and innovative ideas from people that work hard daily to protect people in the digital world.
To better understand the landscape of the hackathon, we interviewed people that were participating with their ideas. Olha Halytska and Nezar Al-Ott both presented on the first day of the hackathon and formed their teams to develop their ideas further.
Olha is a UX/UI designer at Veriff. She joined the company in October 2021, and she works closely with the Marketing team. Nezar is a Verification Specialist, ensuring that companies build trust with their customers. He joined our team in May 2022.
We had a very interesting conversation with both of them about their ideas and their takeaways from the hackathon. Read on to find out more.
Thanks for joining us and sharing your experience! To kick off, why did you decide to join the Veriff hackathon?
Olha: "When Veriff first announced the hackathon, I was really excited about it. After thinking for a while, I came up with an idea that I thought would help us, as a Veriff team, to improve the services we offer to our clients.
I was a bit hesitant about joining, though. I have never pitched my idea in front of an audience before and I was not sure how it would go. But, with time I got more confident and I decided to take part and pitch my idea.
So, I guess it was my idea that pushed me to participate in this hackathon."
Nezar: "During my time in Estonia, I have heard a lot about hackathons. However, I had never participated in one myself. When Veriff announced the internal hackathon for the team, it sounded like a perfect opportunity to discover more. So, I decided to join."
What can you say about the experience?
Olha: "The overall experience was wonderful throughout.
At the beginning of the hackathon, I didn't have a team. Every member joined after the first pitching session. It was amazing to see that my colleagues saw potential in my idea and wanted to build a prototype with me.
The challenge was to figure out what was the most important part of a project and what functionality we should include in the first prototype."
Nezar: "It has been a fantastic experience. I had an opportunity to present my idea during the first pitching session and, for me, it was a bit challenging to give all the information to the audience in just 2 minutes.
Additionally, I was the first person to pitch on the stage out of all the participants, so that was the challenging part too. But the audience liked the idea and, finally, I got the team to work on this project. I learned a lot from this experience."
Let's dive deeper into your projects. What are you trying to build during the hackathon?
Olha: "We want to build a digital footprint tracker.
Many people worldwide are doing online shopping these days. For that, they have to create accounts, give data, and share their bank account details. There are also different social media and some other accounts that people open up every single day.
But the problem is that people usually don't have an understanding of where this data is shared and with whom. They don't know if there is a possibility to claim it back or manage it the way they want to.
We want to build a solution that tackles this problem and helps people to raise awareness and get control over their data. We believe everyone should be in charge of their information and they should be able to control it."
Nezar: "Our project is about finding the best way to share knowledge about our industry. We want to raise awareness about what Veriff does and help people understand insights about the product. The goal is to approach the future clients of Veriff.
During the hackathon, we worked on a short and easy-to-digest training course that can help Veriff share the expert knowledge on digital identity and security, and gain brand recognition in the long run."
Thanks for sharing these interesting insights with us and good luck with your projects!
Let's now have a look at the organizational side of things.
Kalev Rundu is a Senior Product Manager at Veriff. Initially, it was his initiative to organize the very first Veriff hackathon back in 2020. We had fantastic results from that event, which pushed him to make this a tradition at Veriff and organize a hackathon again.
We had a chat with Kalev about what the hackathon is all about and why it is important for Veriff to organize such events regularly. Here's what we covered.
Thank you, Kalev, for finding time to share more insights about this event. Let's dive right in. Tell us, what is the hackathon about, and why did you decide to start this tradition at Veriff?
"Organizing hackathon events and testing new ideas is nothing new in the tech startup world. In the Estonian startup scene, it is pretty common to get together and try to solve problems through hackathons.
Coming from Pipedrive, I understand how hackathons can be a significant part of company culture and what role they can play in a company's overall success.
This is the second time we've organized something like this at Veriff and after the success of the first event, we decided to do it again.
On one hand, such internal hackathons help people from different teams to come together, share their ideas and work on solutions. This is an excellent opportunity for networking and connecting with each other within the organization.
On the other hand, it can play a significant role in a company's success because the solutions that are born at hackathons have a potential to become a part of a bigger project and help to advance the Veriff's product."
Why are hackathons important for the company?
"Besides all the awesome ideas that are coming from the hackathon they are great for motivating and energizing the whole team of Veriff.
We have many new joiners at this event. For most of them, this is the first time they have taken part in a hackathon, so it is a unique experience for them as well. For some people, it is a great place to test their ideas and bring them to life. For others, it's a great way to connect with their colleagues and build interesting projects together.
It's great to see so many Veriff team members motivated to start working on their ideas throughout the hackathon."
What is the value that participants get from taking part in this hackathon?
"It's really motivating for participants to be able to share their ideas with the rest of the team and start working on them. This hackathon gives us the opportunity to try something that is not necessarily connected to our daily job and work on something new.
Generally, a hackathon is a great place to challenge yourself professionally.
Also, hackathon participants get to meet new people that they don't work with on a daily basis, and it can be an interesting opportunity for them to connect and also discuss their ideas to understand others' perspectives.
Other than that, we have awesome prizes for the winning teams, and that could be a motivating factor as well. But, of course, prizes are not the main factor in joining the hackathon. It's all about testing our ideas and connecting with each other."
Tell us about the experience in general. How did people enjoy the hackathon?
"I think that the vibe is really good around the office. For most of the participants, it is the first time they have taken part in a hackathon, and it is a very interesting experience for them.
Everyone seems to be really engaged in the whole process. Some teams started working on their projects straight after the first pitching session. It is exciting to see how the teams are working on their solutions.
Our theme for this hackathon is "Share Veriff with the world". I really like to see the way all teams are looking at this theme and the different angles they are taking. The projects are really interesting and, I believe, they have great potential."
Thanks, Kalev and best of luck with developing your project further.
Finally, we can proudly say that Veriff Hackathon 2022 was a huge success. Our teams did their best to come up with solutions that would share Veriff with the rest of the world in the best possible way.
On the final day, we had many successful ideas presented on the stage. It was incredible to see what our team members could come up with within just 48 hours – everything from the Biometric Age Estimation tool to a digital footprint tracker.
The winner of the hackathon was the project called Veriff2Go. They built a tool that would help Veriffians demo Veriff to anyone in real-time from anywhere without having to create any station sessions manually. The goal is to show Veriff to more people at a broader scale to generate more sales and drive more revenue for the company.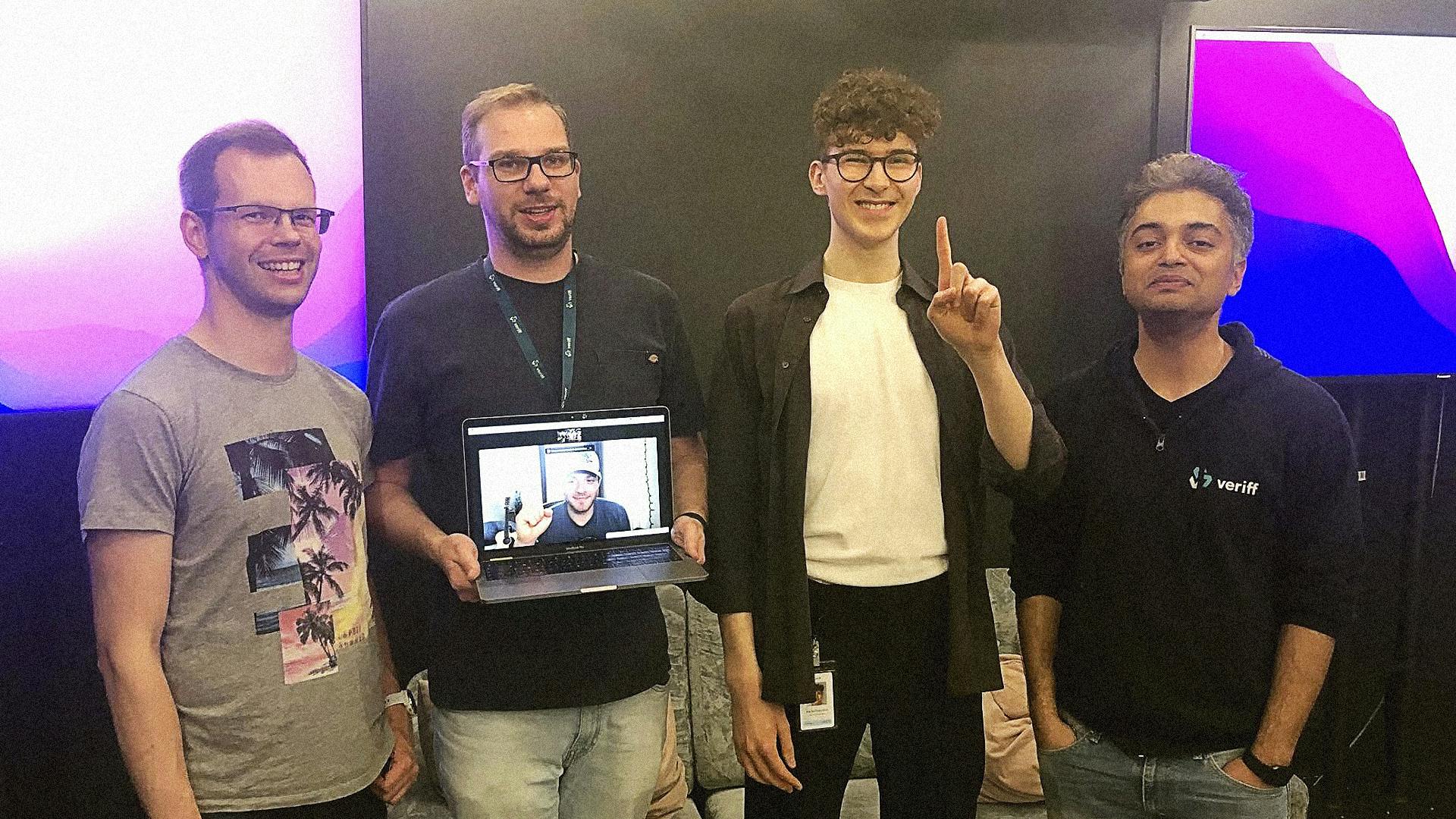 Winning team Veriff2Go (from left): Rivo (Fraud Engineering Lead), Kalev (Product Manager), Abe (Senior Account Executive, on screen), Nikolai (Solutions Engineer), Shantau (Front-End Developer).
This project has great potential and we look forward to implementing it in our daily operations. Great job, guys!
Big thanks to every single participant for their contribution to these projects and the organizing team for bringing this hackathon to life for the second time – you rock!
Here's to the next hackathon!
If you'd like to be part of our upcoming internal initiatives, have a look at our careers page and join our team. Let's connect!