Happy New Year from everyone at Veriff!
Despite the busy holiday season, we're excited to share some great updates made to our mobile SDKs, web flows, and verification platform, Veriff Station. Take a look at what our product teams released before the new year.
Mobile and web tweaks just in time for 2020
Easy integration is more than half the work. Our team added another Veriff installation option for our iOS end-user flows. You can now use Carthage in addition to CocoaPods to add Veriff to your iOS app.  
In addition to this new iOS installation method, our team focused on increasing stability and reliability across our Android and iOS SDKs as well as our web flows. We also treated our web flows to some additional improvements, including a limited support option for browsers that do not support WebRTC technology.
This means that Veriff web flows support verifications on iOS platforms from selected browsers other than Safari. 
New customizable installation in Veriff Station
Thanks to the latest improvements made to our JS installation option in Veriff Station, you can install Veriff and verify customers in just a few clicks. If you aren't a Veriff Station user, you can sign up for a free 30-day trial here, which includes 100 free verifications.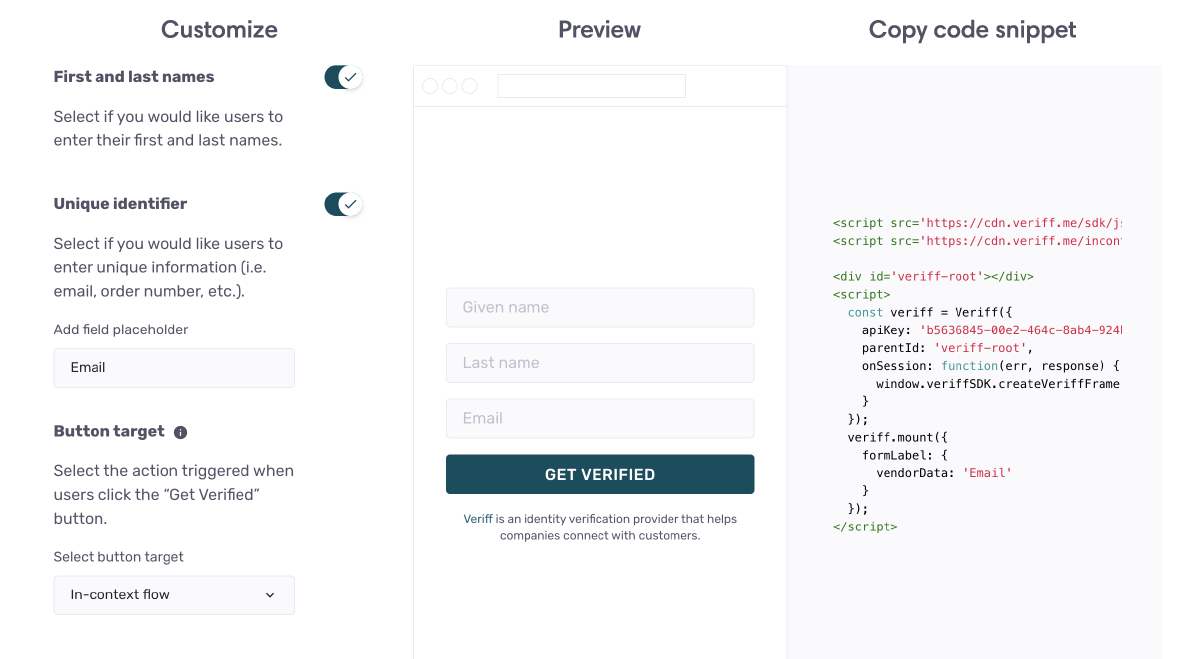 The new installation interface allows you to customize and preview the Veriff widget using visual controls. Once you're happy with it, you can then copy-paste a code snippet to your app or website to verify customers in minutes. Just follow the four steps below to try it out:
Choose which fields you include in the verification form
Decide which end-user flow suits your product best
Copy-paste the code into your product
Monitor incoming verifications in Station
Introducing decision profiles behind the scenes
In addition to upgrading our verification flows and dashboard, our team rolled out decision profile-based technology. This project involved changing out the entire technology stack used for verification services that rely on decision profiles as a configurable description for how we carry out verification services for each client. 
The reason behind this decision is that no client has the same risk appetite. A company's risk level varies depending on the industry, markets served, and why they use an identity verification service. With decision profiles, our team can customize checks according to client-specific requirements, including what data inputs to gather, what checks to conduct, and what outputs to send to the client. 
Our data from tens of millions of verifications show that while more checks make it easier to confirm that a person is who they claim to be, these measures do impact conversion metrics and costs. Decision profiles can leverage cost and risk across different markets, giving each client a more dynamic solution.
Decision profiles also help us define the extent to which we automate our services. Modifying the ratio of human to machine input according to client needs is how we leverage the best of both worlds to deliver quick and accurate decisions. Now that clients can adjust the degree of risk and automation, we can provide a more versatile product for current and future clients.
Make sure you update your Veriff SDKs and web software to make the most of these new features, share your thoughts with us Facebook, Instagram, LinkedIn, or Twitter. Have a Happy New Year, and we'll be in touch with more news and updates in 2020. View all product updates here.